Improving Access to Healthcare through Intelligent Mobility
June 14, 2016

-

June 15, 2016
A workshop for everyone with an interest in transport, health care delivery and developing age friendly transport.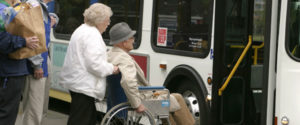 Co-design for service innovation is increasingly used to encourage user engagement in the human-centred design of complex systems and services. The biggest challenge in designing transport services with mobility in mind requires consideration of the public, the decision makers and the system itself. The challenge is in the match of these systems of user requirements and data that is often beyond transport related.
This 2-days participatory workshop will show how open innovation and data-driven design can be realised through co-design with a human-centred approach for transport services. We will be working on a real problem – improving access to health care facilities for elders – which has been highlighted as a priority by the Age Friendly City Initiative in Coventry. Although some discussions may have a Coventry focus, the problems, methods and co-created solutions will be applicable to cities in the UK. The workshop will make possible an interaction between users, stakeholders and the related data in order to achieve open innovation for a human-centred mobility services.