International Conference on Future Mobility
November 7, 2017

-

November 8, 2017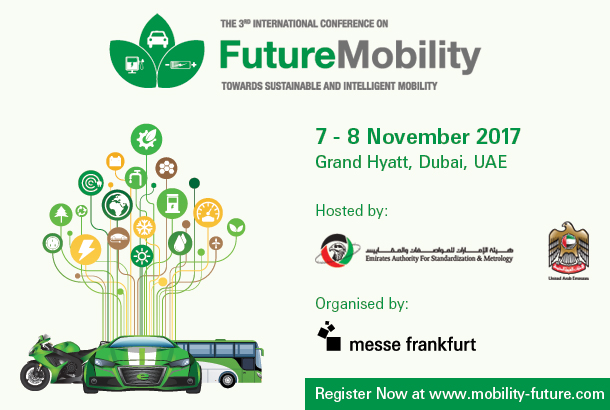 Hosted by the Emirates Authority for Standardization and Metrology (ESMA), the 3rd annual edition of the International Conference on Future Mobility (ICFM) will be held at the Grand Hyatt Dubai, UAE on 7 – 8 November 2017.
Held under the theme "Towards Sustainable and Intelligent Mobility", the conference will discuss and analyse the future of transportation in the region and how smart, sustainable and intelligent vehicles will play a key role in both public and private transport in the smart cities of the future.
The conference sets the stage for the world's leading automotive manufacturers, regional distributors and solution providers to meet with standardisation, regulatory and other relevant government authorities to understand the various initiatives planned by the government to accelerate the market demand for eco-friendly, intelligent and autonomous vehicles. The conference will also discuss how various industry stakeholders can support each other in realising the vision of a smart, connected and sustainable future in the transport sector in the region.
ICFM also features an exhibition that will showcase the latest automotive products, solutions and supporting infrastructure in sustainable and intelligent mobility and transportation.
For more details please visit www.mobility-future.com