SHOW 3rd Pan-European Workshop
October 19, 2022 @ 9:30 am

-

6:00 pm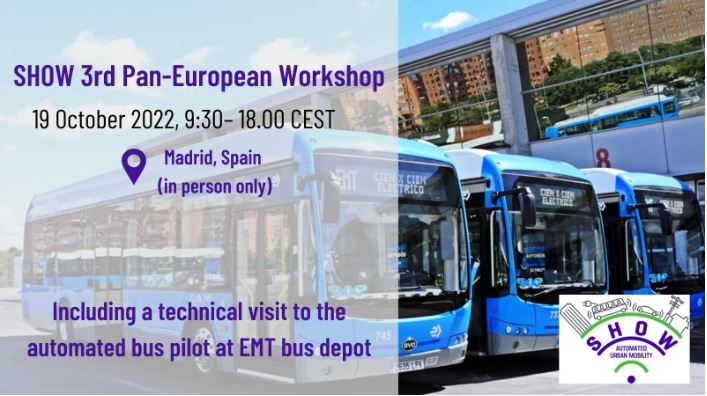 On Wednesday, 19th October 2022, SHOW organises its 3rd Pan-European Workshop, hosted by EMT – Empresa Municipal de Transportes de Madrid. 
The workshop will start with a series of keynote speeches from high-level representatives from EMT, the city of Madrid and the European Commission, followed by a deeper look into SHOW insights from the real-life demonstrations that have started in numerous cities in Europe.
Guest speakers from sister projects in the EU and US will also share their findings from their AV pilot activities. As part of the workshop, you will have the unique occasion to visit the automated bus pilot at the EMT bus depot. 
Registrations are still open. Places are limited, so do not hesitate to sign up!
Programme:
9.30am – 10.00am: Welcome coffee
10.00am – 10.15am: Introduction by SHOW Coordinator and Technical Manager
10.15am – 10.30am: Welcome by General Manager of EMT
10.30am – 10.45am: City Council Madrid
10.45am – 11.00am: EC presentation
11.00am – 11.30am: Lessons learned from SHOW
11.30am – 12.00pm: Coffee break  
12.00pm – 12.30pm: Lessons learned from SHOW continue
12.30pm – 12.50pm: The Little Roady project
12.50pm – 1.10pm: The ABSOLUT project
1.10pm – 2.10pm: Lunch break 
2.10pm – 3.10pm: Panel discussion
3.10pm – 3.40pm: Presentation by EMT
3.40pm – 3.50pm: Adjournment
4.00pm: Bus transfer to Carabanchel bus depot 
Registrations are limited. Sign up in the following link.