WE-TRANSFORM Stakeholder Workshop: The impact of automation on labour force.
June 30, 2021 @ 1:30 pm

-

5:30 pm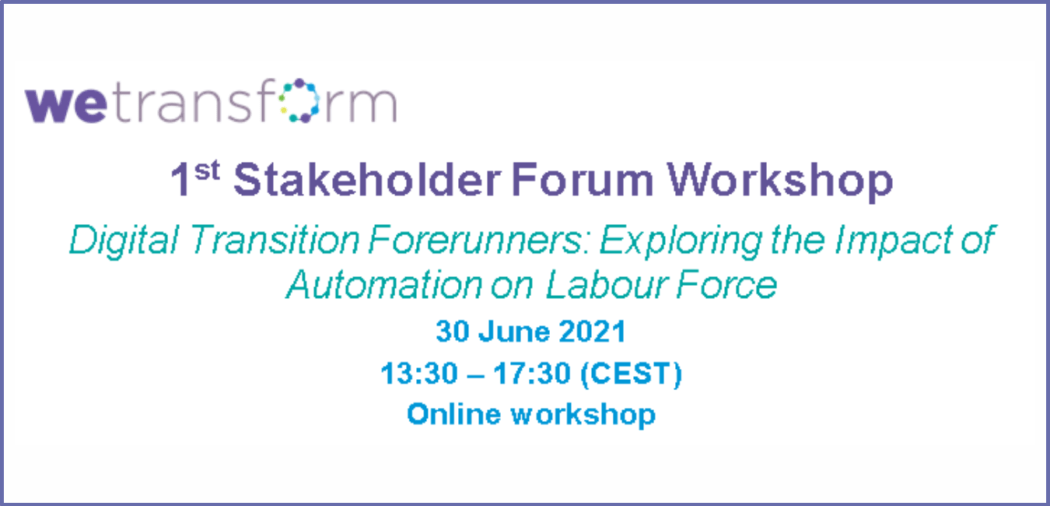 Do not miss the chance to participate in the debut discussion on the challenges and opportunities of automation impacts on the labour force. After an introduction by the European Commission (EC), the webinar presents the project activities' objectives, aiming to foster a platform on how the community can become more actively engaged in the long run. 
The EU-funded project WE-TRANSFORM seeks to engage the multi-stakeholder engagement to promote discussions to address the gaps in automation transitions since there is a call to design robust policy responses. The forum's purpose is to collect additional input on the State-of-the-Art, including the most innovative reports and scientific articles related to the impacts of automation and digitalisation for all modes of transport. By leveraging stakeholders' knowledge and experiences, with a co-creating action-oriented plan targeting EU and non-EU administrations, the platform enables participants to take part in the best practices to understand better how they can be transferable to the WE-TRANSFORM focus. 
Following EC's introduction, the webinar will host a panel discussion of experts to share findings, experiences and best practices from the transport sector and other sectors, including tourism, finance, and construction. The webinar will transform break-out group discussions around the challenges these sectors are currently facing regarding the workforce and the associated impacts of automation.
In this dialogue, all actors and interested stakeholders are invited to attend, including research, industrial and social partners, relevant networks, associations, employers' and workers' representatives across all transport modes and countries.
Mark your calendar and join the discussion! 
More detailed information on the agenda is coming soon, and registration (participation is free of charge) will be circulated shortly (and will be posted here). Stay tuned and follow us for all updates.
Contact: Julie Castermans, ERTICO – ITS Europe, j.castermans@mail.ertico.com
[1] The Automation Readiness Index-The Economist Intelligence Unit Limited 2018