Webinar: How CAD and AVs can support the sustainability of transport
October 27, 2020 @ 1:00 pm

-

2:30 pm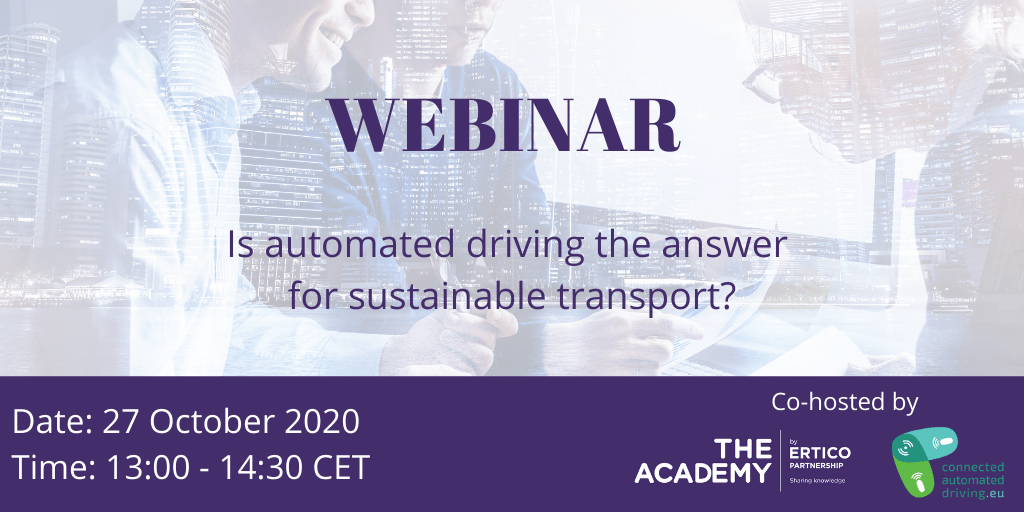 Sustainable transport has three dimensions:
(1) Environment; Does CAD reduce emissions or noise? Does it help us achieve the carbon neutrality goals? How does it affect land use and livability?
(2) Economy: Do AVs promote sustainable modal choices? Do they improve the efficiency of the transport networks?
(3) Society: How much will CAD improve safety? Does it improve public health or quality of life? What about social equity, do AVs promote access to goods and services for as many people as possible?
This workshop starts with discussion on different mechanisms how CAD and AVs can support the sustainability of transport and what we know now about the impacts. It also discusses what kind of expectations and concerns different stakeholders have and whether the automated mobility can be made inclusive and environmentally friendly. The session is interactive, and audience is invited to contribute via polls and discussion.
Date: 27 October 2020
Host: Stéphane Dreher, ERTICO – ITS Europe
Moderator: Satu Innamaa, VTT, Finland
Speakers:
Scott Smith, U.S. DOT Volpe Center, USA (Energy and Environmental Impacts of Automated Vehicles: Framework and Preliminary Results)
Toshimasa Nakagawa, NILIM/MLIT, Japan (Automated Driving Services in Rural Area)
Rune Elvik, The Institute of Transport Economics (TØI), Norway (Safety impacts of CAD)
Sascha Westermann, Hochbahn – ITS PMO of the City of Hamburg, Germany (Impacts of CAD on livability of cities and sustainable modal choices)
______________________________________
Please register here.
This webinar is co-hosted by the ERTICO Academy and the EU co-funded ARCADE project.