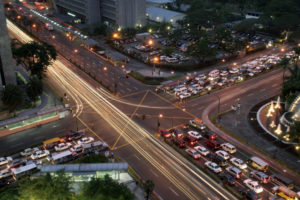 EUROCITIES, the supporter of the SPICE project kindly invited the SPICE team to facilitate a discussion with city representatives in its Mobility Forum in Toulouse on 18 October. The overarching topic of the Mobility Forum was "Innovative mobility for better urban space", and it gathered around 100 city representatives to Toulouse. The SPICE team was grateful to take this opportunity and was represented there by Piia Karjalainen (ERTICO – ITS Europe), Lasse Stender (North Denmark Region), Sebe Vogel (Rijkswaterstaat) and Bianca Kapl and Florian Kressler (AustriaTech). Since the session was on the last day of the Mobility Forum, approximately 50 persons were present when SPICE held its presentation and workshop. The topic turned out to be fresh and quite interesting for the audience, given that only 1/6 of them were somehow involved in procurements in their work. The SPICE team delivered a successful workshop, thanks to active participation of those who were genuinely interested in the topics.
The report from the workshop is now available here.
The post Examples and Challenges of Innovative Procurement and Collaboration in Procurement Discussed at EUROCITIES Mobility Forum in Toulouse appeared first on SPICE.