The Flemish AWV (Agentschap Wegen en Verkeer), together with other ERTICO partners (Be-Mobile, Monotch, Tractebel, Yunex Traffic, and Swarco) are cooperating to deploy innovative C-ITS solutions under the Mobilidata project. C-ITS (Cooperative Intelligent Transport Systems) is a cornerstone of modern ITS deployment and a vast building block in the European mobility data space. 
From innovation to large-scale deployment 
Flanders is determined in its choice of C-ITS technology to improve road safety and meet international sustainability goals. The northern region of Belgium has established the Mobilidata program to work towards these objectives. Today, Mobilidata starts the roll-out of C-ITS services for car and truck drivers. The cyclist services are soon to follow. A C-ROADS-compliant system architecture has been developed in collaboration with researchers and private companies with expertise in the latest technology and C-ITS capabilities. Interested parties are invited to read the whitepaper on this system architecture. Innovation is turned into a commodity, enabling Flanders to start a promising new digital chapter and paving the way for the future of mobility. 
What does Flanders have to offer? 
 Flanders is a densely populated region with roughly 6.5 million inhabitants, facing dense traffic in and between cities and municipalities as well as growing volumes of transport from and to the Port of Antwerp-Bruges and the hinterland. In Flanders, 31 C-ITS use cases will go live in the next two years, and 350 conventional traffic lights will be upgraded to intelligent traffic lights (iTLCs). These iTLCs will optimize traffic based on real-time mobility data from road users; give priority to emergency services, enhance public transit flows, and allow longer and more frequent green phases for cyclists in school areas to increase their road safety and comfort.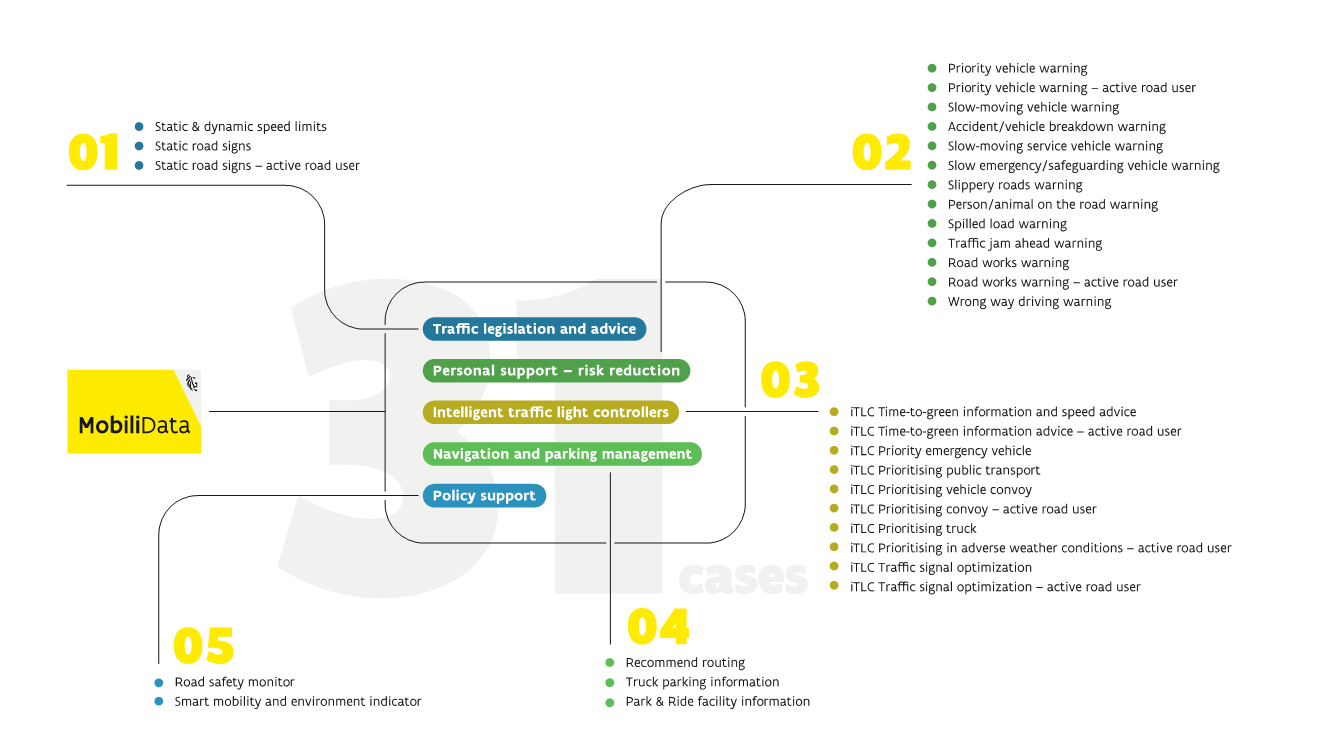 Visual: all 31 use cases that will be deployed in Flanders. They are divided into five clusters: road signs, risks and warnings, iTLC solutions, navigation & parking solutions, and insights for policymakers. 
First up is the roll-out of these warnings: personalized traffic warnings for slippery roads, person/animal on the road, spilt load, accident/vehicle breakdown, road works and traffic jams ahead. All of them will be available in the connected end-user applications Flitsmeister and NDrive Karta GPS by the end of March. Later this spring, traffic solutions involving intelligent traffic lights will become available to the public, so the connection between road infrastructure and road users will be a fact. 
Open ecosystem with opportunities in C-ITS 
Mobilidata is a collaboration between governments, strategic research center imec, and private parties, including several ERTICO partners like Be-Mobile, Monotch, Tractebel, Yunex Traffic, and Swarco. The Mobilidata program is funded by Flanders Innovation & Entrepreneurship and receives additional funding from the European Commission.
Extra partners are welcome to provide mobility data or integrate Mobilidata use cases in their product or service, or to further improve the use cases. Are you interested in the possibilities for collaboration? Or do you want to know how the deployment is proceeding and how Flanders is evolving to a region where C-ITS safety and comfort uses cases become a standard? Then be sure to read the next articles in the ERTICO newsletters or contact mobilidata@imec.be. 
Ann Matheve: Ann.Matheve@imec.be,  
Kristof Rombaut: kristof.rombaut@mow.vlaanderen.be, 
ir Frank Daems: F.daems@mail.ertico.com 
Milica Zizic: M.Zizic@mail.ertico.com 
This is a new series of collaborative articles with the Flemish AWV related to the C-ITS deployment roadmap.