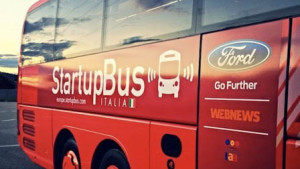 A bus containing 25 young, Italian entrepreneurs will arrive in Cologne, Germany, later today after a 72 hour journey from Italy.  Sponsored by Ford Italy, StartupBus 2015 is an "adventure" in which 25 young people are divided into five teams and set the task of building and launching their own business.
What made the challenge different, is that the five teams were tasked with developing their new ideas on a bus as it travelled from Italy to Germany.
This year's StartupBus theme is gamification, and the "buspreneurs" were challenged to apply the principles and mechanisms of video games to promote smart mobility.
After departing from Bologna on Saturday, StartupBus 2015 visited Milan, Zurich, Aachen, Amsterdam and, finally, Cologne. Along the way, the teams faced a number of challenges and obstacles to prove they have the skills necessary to form a company.
During the journey, the teams were joined by mentor hi-tech and business creation experts.
The winning Italian team, to be chosen for its energy, enthusiasm and resourcefulness, will have the opportunity to cultivate its idea with additional resources.
The award ceremony will take place in Cologne today, with the successful team going on to represent  Italy in a Europe-wide competition, competing against young entrepreneurs from other countries.
The Italian winners will receive space at Talent Garden, a business startup incubator with locations across Europe, and will be provided with access to a range of services, including meeting rooms, business development facilities, an extensive network of contacts, and special discounts for international events and training courses.