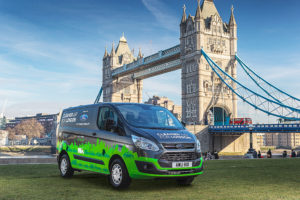 On January 20 2017, Ford announced it is launching a multi-million pound project designed to help improve air quality in London, as the vehicle manufacturer accelerates its electrification plans with 13 new global electrified vehicles scheduled for introduction in the next five years.
The project, supported by Transport for London, features a 12-month trial of 20 new plug-in hybrid (PHEV) transit custom vans that reduce local emissions by running solely on electric power for the majority of city trips such as deliveries or maintenance work.
---
RELATED CONTENT
---
Commercial vehicles in London make 280,000 journeys on a typical weekday, travelling a total distance of 8 million miles (13 million km). Vans represent 75 per cent of peak freight traffic, with over 7,000 vehicles per hour driving at peak times in Central London alone.
Ford will provide 20 PHEV Transits to a range of commercial fleets across London, including Transport for London's fleet, to explore how such vans can contribute to cleaner air targets while boosting productivity for operators in urban conditions – the toughest working environment for vehicles. The project is supported financially by the U.K. Government-funded Advanced Propulsion Centre.
For more information, please click here.
Source: Ford