Competing to host the world's largest congress on intelligent transport systems and services (ITS), Hamburg announced to expand smart systems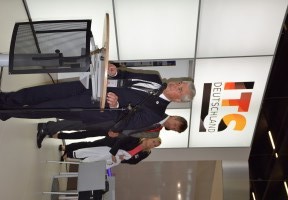 Implementing the most modern technologies in traffic and transport for tomorrow's mobility, Hamburg is preparing for a sustainable future – and is applying to host the ITS World Congress 2021.
"Hamburg is one of the most productive and most liveable cities in Europe. We focus on intelligent transport systems. Tomorrow's smart city improves the quality of human life by intelligent, innovative infrastructures. They help to make mobility more efficient, to save resources, and to reduce negative environmental impacts", said Frank Horch, Hamburg Minister of the Economy. Hamburg's candidacy for ITS 2021 was announced at the Hamburg evening at this year's ITS World Congress in Bordeaux to 100 guests from business, research, associations and politics.
Competing to host the world's largest congress on intelligent transport systems and services, Hamburg will include innovative mobility services in its traffic and transport system. Whether in the car, bus, rail, sea and air – the modern Hamburg will be offering an integrated mobility system and an attractive infrastructure for all. With projects such as the smartPort, which digitises the container handling and transport in the Port of Hamburg, the city state has set first milestones.
Other projects, for example, optimise the flow of traffic in the city, make the route network more efficiently, enable comfortable travel with different modes of transport while simultaneously strengthening the road safety and improving sustainabilty.
"Our intention is to give Hamburg a pioneering role in the use of intelligent transport technologies. The efforts are greatly supported by the city's industry and science", said Horch. The smart city benchmark study conducted by the ICD has already named Hamburg the "smartest city in Germany" in the category +150,000 inhabitants in 2012. In the long term, ITS technologies will contribute to greater comfort, increased efficiency and better traffic flow in Hamburg.
The decision on Hamburg as a host city of the ITS World Congress will be taken in the summer of 2017, when an expert committee of experts will be evaluating the congress concept and choose the winner among the European candidates.
Text souce: Hamburg News
Video Source: NXP Semiconductors