25th ITS World Congress was a major event for the transport community with over 10 000 participants from over 90 countries. During the five days of the congress transport professionals, city representatives, technology suppliers and many more met to discuss the groundbreaking trends and showcase the latest research across more than 200 sessions and 400 exhibitors.
Like many other H2020 funded projects, AEOLIX could not miss the opportunity to be present at this excellent event and showcase its revolutionary logistics data sharing network. AEOLIX was presented in various sessions throughout the week both as part of the official congress programme and at the ERTICO – ITS Europe booth and its own AEOLIX stand.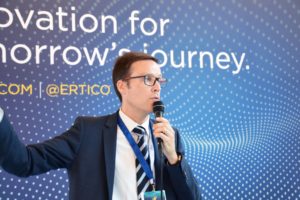 The week started with Thomas Desseilles, ERTICO – ITS Europe, presented AEOLIX at the ERTICO stand. Thomas gave a general overview of the project and showed how AEOLIX network can ensure end-to-end visibility of the supply chain.
Two AEOLIX papers have also been presented at the technical sessions of the congress focusing on improving freight flows. Iraklis Stamos, IRU Projects, presented the paper "Market Opportunities, Barriers and Solutions For Logistics Innovation Platforms" which gives an analysis of barriers that could be potentially harmful for the system deployment and future success of logistics platforms.  Each barrier is prioritized under various perspectives in terms of whether and when a consortium should deal with it (all those barriers that are both likely to appear, difficulty to deal with when they appear, and having a potentially significant impact for the AEOLIX system deployment).
Eusebiu Catana, ERTICO – ITS Europe,  presented another technical paper entitled "TM 2.0 – DATEX II for logistics applications" in session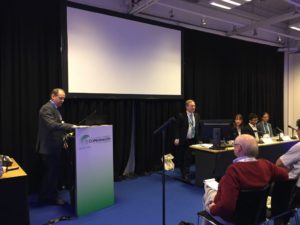 "Improving freight flows – logistics and smart data". The purpose of the paper was to demonstrate the development and implementation of DATEX II for logistics operations based on data model development presented for the Port of Trieste. The next steps are for AEOLIX and TM 2.0 to liaise and work together with DATEX II community to explore ways how this extension of DATEX II in the hinterland connections will take place.