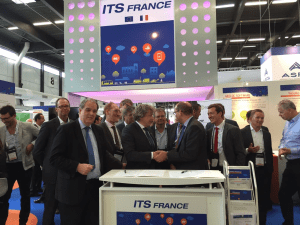 During the ITS World Congress a MoU was signed between ITS France and Connekt/ITS Netherlands. This important moment on Tuesday 6 October was shared by the president of ITS France, Denis Aubron and managing director of Connekt, Nico Anten, accompanied by various board members of both organizations.
This MoU declares that ITS France and Connekt wish to strengthen their cooperation and exchange their knowledge. They also agreed to intensify their contact. The first steps of this cooperation are to work on the program of the International ITS Summit on the 4th April in Amsterdam and to look for possibilities for launching the Lean and Green program in France.
For more information, click here
---
On 8th October 2015 in Bordeaux, France, during the 22nd World ITS Congress ITS Bulgaria and Connekt/ITS Nederland signed an MoU for bilateral cooperation in Intelligent Transport Systems.
Through the MoU both organisations agreed to cooperate on the following principles: to exchange
ITS information and technical publications; to facilitate ITS professionals and organisations from both private and public sectors who wish to make contact or visits to ITS development and implementation sites in Bulgaria and The Netherlands; exchange and dialogue between ITS Bulgaria and Connekt/ITS Netherlands, volunteer leadership and staff regarding effective association management practices; Exchange and dialogue on policy issues that will be discussed at International Road Congresses and ITS World Congresses to benefit ITS professionals and industries around the world; cooperative promotion of each other's principal ITS events.
Expectations for the future are that the co-operation between the parties will be highly beneficial for both organisations and that this agreement may lead to more effective and better organised development and deployment of intelligent transportation systems in Bulgaria and The Netherlands.
For more information, click here