On 3 November 2015 the first meeting of the Let'S Move! project took place at the headquarters of Energy Agency of Ribera in Sueca (Spain), attended by representatives of Prioriterre, the city of Wrocław (Poland), the city of Koprivnicaia (Croatia), and the Energy Agency of Ribera.
The main objective of the Let Schools Move in a Healthy, Safe and Sustainable Way (Let'S move!) project is to promote safe, healthy and sustainable mobility at schools.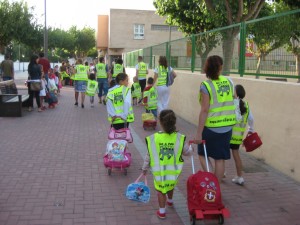 The project aims to change the perception of the school community in relation to commuting to school. During the project, school routes will be designed and implemented in 15 schools and some activities and awareness campaigns on sustainable mobility will be carried out.
Pilot 'walking bus' experiences (pictured) will also be conducted and international exchanges between students will be organised through the e-Twinning platform.