Current emissions data from the freight transport sector are contradictory to the European Union's sustainable objectives. The EU-funded project NextETRUCK aims to take on a leading role in the sector's recent trend towards enhancing decarbonisation in cities with zero-emission medium freight haulage. 
Accelerating the shift towards fleet electrification 
The transportation industry, as a major contributor to pollution in Europe, is under scrutiny by the European Union to achieve its ambitious goals of reducing greenhouse gas emissions by 55% in 2030 and 90% in 2050. The EU has been focussing on  logistics as a particularly polluting sector with great opportunities to adopt environmentally responsible practices, enhancing electrification as a crucial element for the green transition.
NextETRUCK is the  flagship EU-funded project that seeks to boost the replenishment of a new generation of fast-charging, zero-emission medium freight haulage, developing innovative components, trucks, and infrastructure. The design of disruptive tools for the electric powertrain, total cost of ownership (TCO) reduction, new business models, digital twin and ultra-charging concepts will lay the foundation for tomorrow's urban logistics.
Responding to new mobility patterns for urban logistics 
73% of Europe's population lives in urban and suburban areas. This increasing tendency to live in large cities makes sustainability in urban areas a pressing challenge. As part of the cities' ecosystem, today's urban logistics pose significant hurdles including traffic congestion, and noise and air pollution.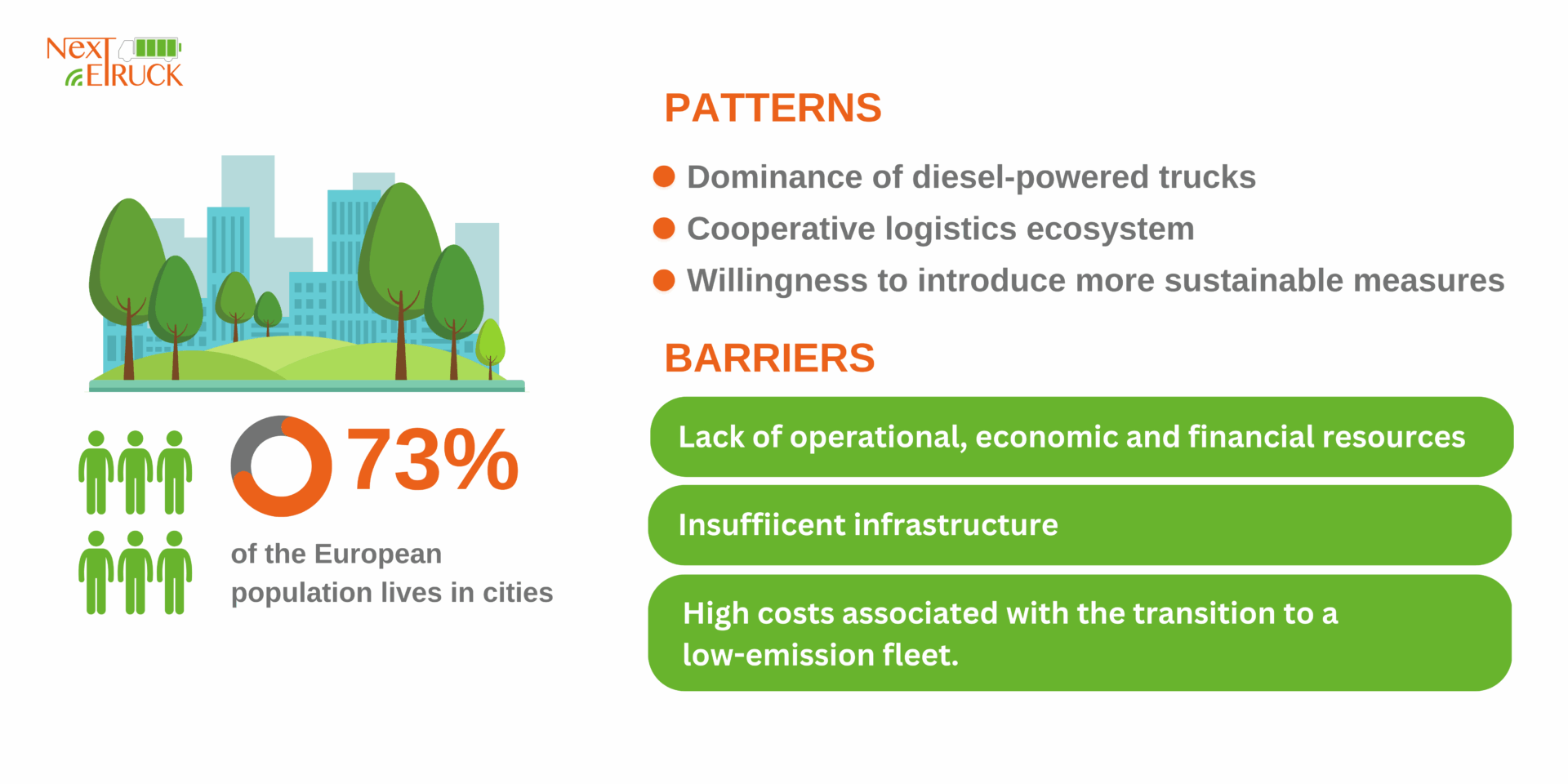 A recent study published by the European Commission on "New Mobility Patterns in European Cities – Specific Survey on Urban Logistics" analyses the main patterns and barriers experienced by the sector in moving towards sustainability. The results depict a dominant presence of diesel-powered vehicles but also high levels of collaboration across different actors in the chain and a will for low emission transition. The main obstacles to this sustainable transition are the cost of fleet replenishment and the lack of infrastructure and support from local authorities. As part of its mission, NextETRUCK aims to overcome these challenges to accelerate the low-emissions tendency. One of the project's strengths is to tackle the shortage of charging points by introducing cutting-edge powertrains and rapid-charging systems. Together with new business models designed by the consortium, the project enhances the competitiveness of these trucks over the traditional diesel ones.
Follow up on the sector's decarbonisation with NextETRUCK innovations and use cases by visiting the project's website and subscribing to their newsletter.