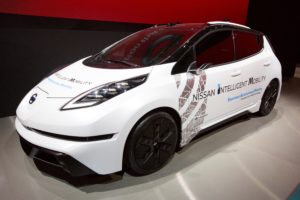 On January 13, Nissan announced it will bring real-world demonstrations of autonomous driving cars to London in February 2017.
According to Nissan, passengers, including government officials and technical and safety experts, will be given the opportunity to experience and test the technology in a live environment in a modified Nissan LEAF.
---
RELATED CONTENT
---
The announcement was made following a visit to the Nissan Technical Centre Europe (NTCE) in Cranfield, Bedfordshire, by the Rt Hon Greg Clark, the UK Secretary of State for Business, Energy and Industrial Strategy, following a preview with a demonstration around the grounds of the technical centre.
In addition to this development, last week Nissan announced that its latest models of the LEAF and Qashqai will also be equipped with the same autonomous drive technology to enable single lane autonomous driving on motorways.
For more information, please click here.
Source: Nissan