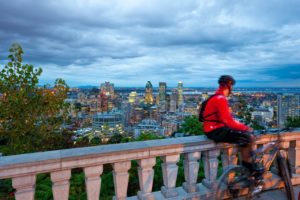 The ITS World Congress 2017 will be hosted by the city of Montreal between October 29 – 2 November at the Palais des Congrès de Montréal. The Congress will bring global leaders in intelligent and transformative transportation together to showcase and evaluate the latest innovative concepts, active prototypes and live systems. Expect thousands of people from the transport, automotive, telecommunications and technology sectors discussing and debating how this ever expanding industry is addressing the very real challenging facing our mobile, connected societies today and in the future.
Click here to register for the Congress.
About the City
Montreal is a very reachable destination with direct flights from most major international destinations and it's just an hour north of the US border. Getting around the island is very easy with various modes of public transport ranging from bicycle rentals to tech-driven transport at your disposal.
In the middle of the city stands the Mont Royal Mountain – from where the city gets its name. The city prides itself on its rich European heritage, made obvious by the cobble-stone streets and 18th century buildings in the old town, while downtown Montreal has developed into a hip and trendy scene.
The city operates in both English and French, but it's cuisine and culture is strongly influenced by its multicultural population. This year Montreal turns 375 and there are various celebrations that take place around the city throughout the year.
Click here to find out more about special flight rates to Montreal with Delta airlines, United airlines and Air Canada.