After six years of hard work the Ring Rail Line was completed and opened to traffic on 1 July. This new train service significantly improves public transport services in the metropolitan area and boosts the creation of new residential, industrial and commercial areas.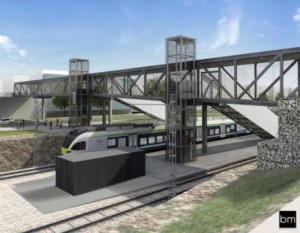 On the opening day the first I Train departed from Helsinki at 03:59. In honour of the day, a variety of programmes and performances had been arranged at the stations, where a significant number of spectators had gathered to enjoy the opening day festivities. The new Minister of Transport and Communications, Anne Berner, blew the train whistle, whereby the first train from Tikkurila Station was dispatched.
The Ring Rail Line significantly improves public transport services in the metropolitan area. It operates as a rail link to the Helsinki-Vantaa Airport, as well as a transverse public transport line, where trains running at short intervals serve a great number of commuters. The Ring Rail Line not only serves the municipalities in the Helsinki region, but all of Finland as it provides a rail link between air traffic and long-distance train traffic from the rest of the country. It is also expected to reduce traffic congestion on the ring roads, as commuters become more familiar with the new park-and-ride facilities at the stations.
Exceptional arrangements at the airport until autumn
During the first months, access to the terminals at the Airport Station is through the Tietotie entrance. The airport terminals can be reached either by a free shuttle bus service or by foot. The direct entrance from the train station to the terminals will open later in the autumn.
Until the opening of the entrance facing the terminals, a free shuttle bus service is provided between the Tietotie entrance and the airport terminals. The journey time is 5 – 10 minutes and the buses run every 5 – 10 minutes during the train operating hours.
The terminals can also be reached by foot, along a signposted route. The walk from the Tietotie entrance to Terminal 1 is about 350 meters and to Terminal 2 about 700 meters.
Original source: Finish Transport Agency