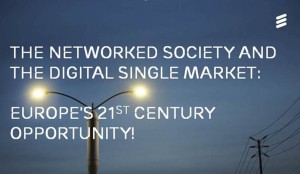 Hermann Meyer, ERTICO CEO, will participate in a panel discussion on Market trends and developments, where panellists will be asked to reflect upon changes that technology has trigered for consumers, industry and society , and how this needs to interact with the policy and regulatory dimension.
This panel discussion falls within the Ericsson Digital Single Market Seminar, which will be held on 17 September in Brussels. The focus of the event will be on "The Networked Society and the Digital Single Market: Europe's 21st Century Opportunity".
With the recent launch of the Digital Single Market Strategy the European Commission has taken ambitious first steps on the road to getting Europe ready for a truly Networked Society.  Trough this seminar, the different participants will highlight the sometimes radical and often positive consequences of the Networked Society.
Changes that will impact wide ranging industries and society as a whole. If Europe gets its regulatory framework right this would serve as a facilitator to making Europe a global digital leader. With this event we would like to stress the industrial and societal changes and how the correct regulatory models will help to achieve our ambitious common objectives for Europe.
For more information on the event, please click here