In Berlin, one of the ten demonstration sites of the project, eCharge4Drivers partner Swobbee facilitates the charging process of light electric vehicles by making them faster and more convenient for the user. With its user-friendly and interoperable battery-swapping service, Swobbee allows users to easily and quickly get a fully charged battery when they need it.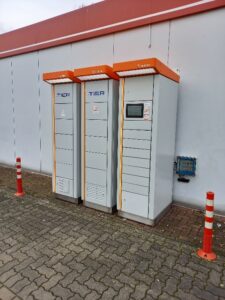 The eCharge4Drivers demonstration site in Berlin focuses on battery swapping services for the users of Light Electric Vehicles (LEVs). The objective is to replace a discharged battery with a fully charged battery in a couple of minutes, thus providing users with the flexibility to use the vehicle without range anxiety. With this objective, the Swapping Stations developed by Swobbee are built on the principle of fast battery changing in less than 60 seconds.
A key aspect of the system is the interoperability of batteries. The stations are designed with several compartments that can host different battery technologies, which is the closest and optimum solution for overcoming the challenge regarding different battery specifications in the absence of a suitable policy framework for battery standardisation.
A mobile application available on Android and Apple iOS gives information on the nearest charging station, the available batteries and their state of charge, along with an option to reserve the battery for a short period of time. The app also guides the user through the swapping process.
The Battery Swapping Station (BSS) thus enables the user to get a fully loaded battery in less than two minutes. The BSS is based on a Battery as a Service (BaaS) concept, whereby the batteries are owned by Swobbee, ensuring the quality and standard of the system. The main benefit for the user is the constant availability of charged and maintained batteries, which are stored under optimal conditions. Payment is set up via direct debit for a monthly tariff subscription in advance.
Read the full article here and discover more about the ten demonstration sites of the eCharge4Drivers project and the technologies and services developed and tested in each of them here.
eCharge4Drivers has received funding from the European Union's horizon 2020 research and innovation programme under grant agreement No. 875131.