The ICT4CART Final Event will take place on Friday 15th October at the ITS World Congress in Hamburg, Germany (11th-15th October), from 2:00 PM till 6:00 PM CET. Registrations are open here.
During the final event, the ICT4CART consortium will deliver an overview of the project and the results over the last three years. Additionally, through a series of interactive presentations and video demonstrations, the consortium will provide participants with an overview of the significant contribution of the ICT4CART project to the research community and showcase how its solutions will improve EU citizens' daily life while creating new market opportunities for large companies and SMEs. The Consortium will also showcase the use cases analysed, and the testing carried out at our different pilot sites.
The event also offers a unique opportunity to interact with some of ICT4CART experts, who come from a broad array of organisations, such as ERTICO-ITS Europe, ISENSE Group of ICCS, Nokia, University of Institute of Measurement, Control and Microtechnology (UULM), Urban Foresight (UFL), Centro Ricerche Fiat (CRF), Leading Innovation & Knowledge for Society (Links) and Autobahnen und Schnellstraßen Finanzierungs Aktiengesellschaft (Asfinag), as well as the members of ICT4CART's advisory board.
Check out the agenda of the ICT4CART final event below: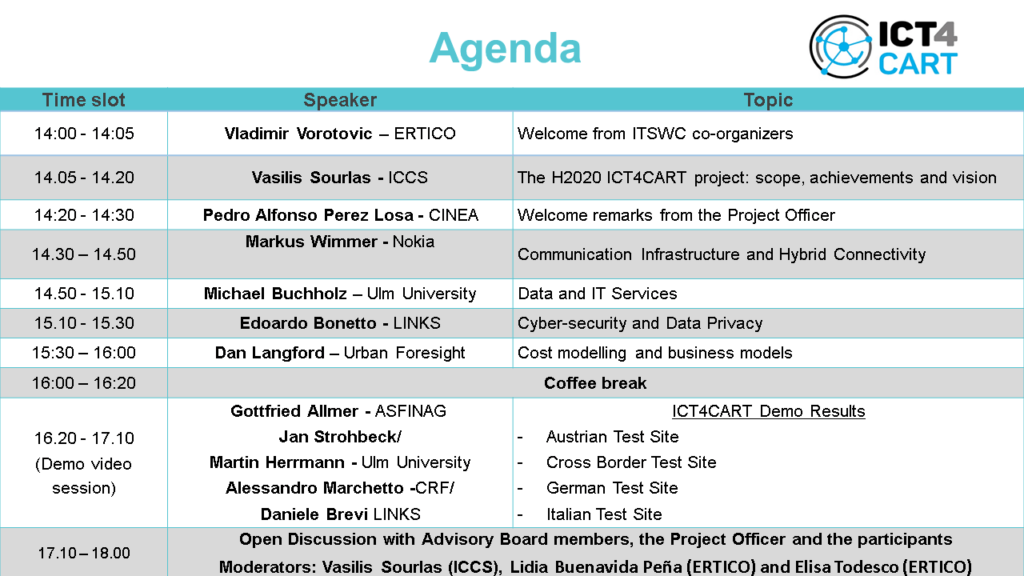 Click here to register!
ICT4CART Consortium
Institute Of Communication And Computer Systems (ICCS), Greece; Ibm Ireland Limited (IBM-IE), Ireland; Ibm Research Gmbh (IBM-Z), Switzerland; Centro Ricerche Fiat Scpa (CRF), Italy; Bayerische Motoren Werke Aktiengesellschaft (BMW), Germany; Nokia Solutions And Networks Gmbh &Co Kg (Nokia), Germany ; Wind Tre Spa (Wind), Italy; T-Mobile Austria Gmbh (T-Mob), Austria; Robert Bosch Gmbh (Bosch), Germany; Swarco Mizar Srl (SWM), Italy; Cassidian Cybersecurity Sas (Airbus), France ; Autobahnen- Und Schnellstrassen-FinanzierungsAktiengesellschaft (Asfinag), Austria; Austriatech – Gesellschaft Des Bundes Fur Technologiepolitische Massnahmen Gmbh (ATE), Austria; Universitaet Ulm (Uulm), Germany; Naytiliakes Metaforikes Kai Epikoinoniakes Epixeiriseis Seability Epe (SEAB), Greece; Istituto Superiore Mario Boella Sulle Tecnologie Dell'informazione E Delle Telecomunicazioni Associazione (ISMB), Italy; European Road Transport Telematics Implementation Coordination Organisation – Intelligent Transport Systems  Services Europe (ERTICO), Belgium; Stadt Ulm (COU), Germany; Comune Di Verona (CDV), Italy; Societa Per Azioni Autostrada Del Brennero (Brenner-Autobahn) (Bre), Italy; Urban Foresight Limited (UFL), United Kingdom