Connected, Cooperative and Automated Mobility (CCAM) has a central role to play in achieving decarbonisation targets. To achieve the green objectives set for the next future, it is necessary to ensure a fast and scalable deployment of CCAM technologies and systems. Focusing on safety and validation of CCAM systems is fundamental for their full embracement by society.
The effect of augmenting research and innovation activities on safety assurance will potentially generate a breakthrough of CCAM systems deployment and, thus, contribute to achieving many of the EU's transport policy goals. Consensus building between all stakeholders is needed to establish common, validated methodologies and tools. Recently, the United Nations Economic Commission for Europe (UNECE) also proposed a regulatory framework for the safety assessment of Automated Driving Systems. The suggested framework consists of multiple pillars, needs to be repeatable, objective and needs to utilise evidence-based assessing instruments.
The SUNRISE project to become a solution accelerator
SUNRISE responds to the European Commission's call to innovate and accelerate international cooperation on the question of CCAM safety assurance. The project will accomplish this by offering a distinct and universal architecture for safety assurance that includes an assessment of methodologies, synchronized tools, and a common database for safety validation. The SUNRISE consortium aims to develop a Safety Assurance Framework that will be scenario-based (testing will be conducted on different virtual and physical scenarios) and will build upon different methodologies and tools.
The result will be the creation of the first European federated scenario-based testing tool stemming from the application of a handful of new technologies. This means that partners, while working on four main Use Cases, will employ methodologies and approaches that will be included in a common and standardised database. These Use cases are based on different operational design domain (ODD): Urban AD validation (ODD: intersections), Traffic Jam AD validation (ODD: highway), Highway AD validation (ODD: highway), Freight vehicle automated parking validation (ODD: logistic terminal, connectivity, light rain or attack injection). The figure below explains how the project will interconnect its different features.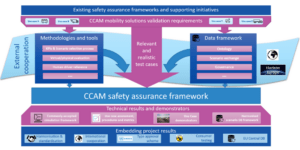 Building on past achievements
SUNRISE's Safety Assurance Framework (SAF) will offer instructions on how to produce proofs and a related safety case that will inspire confidence in the safety of CCAM systems. Furthermore, it will offer advice on how to identify and develop criteria necessary for safety certification and (consumer) rating.
Establishing safety assurance processes for connected and automated driving is a complex matter. In order to collect enough statistics for reliable results, which would require time and resource consuming testing in real-case scenarios, a consolidated methodology that is based on analysis of national and international programs has to be elaborated. As with the HEADSTART project – its predecessor – SUNRISE will also build a database to allow the study of a large number of use cases and scenarios for testing.
The framework that will be developed and expanded in SUNRISE will be based on HEADSTART. Nevertheless, SUNRISE presents a set of new features: development of new methodologies, increased harmonisation, better standardisation, expanded international cooperation, extension of the use cases, and improvement of simulation platforms. These characteristics will allow to produce verification, validation and rating procedures based on realistic and relevant test cases.
A shared EU library of test cases for several use cases, a standardized scenario-based testing methodology, standardized scenario database formats, and new interfaces are among the major scientific and technological developments that the project will offer. SUNRISE will share several scientific and technological findings with other projects, particularly CCAM Horizon Europe initiatives, as part of the CCAM 2021 and 2022 program.
SUNRISE is already on the move
In the first two months since the project was launched – the SUNRISE kick-off meeting took place 20-21 September – SUNRISE partners have already made the first concrete steps and presented the project at various international conferences. In late October, ERTICO's Stephane Dreher brought SUNRISE features to the SIP-adus Workshop, where a first encounter with international partners – SAKURA and VVMethods – took place. Dr Dreher also presented the project at the "The Autonomous" Conference in Vienna, earlier in the month. The most recent event in which SUNRISE was involved was the ASAM International Conference in Dresden. Here, partners from Warwick University included SUNRISE at their booth.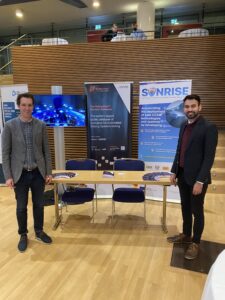 ERTICO, in line with its Roadmap for 2035 on Connected Cooperative & Automated Mobility's principles, fully supports all the efforts that are to lead to tangible results in the ITS sector. This includes and is not limited to increased coordination and interaction between multiple stakeholders, focusing on harmonised approaches and developing interdependence among CCAM actors across the globe.
As its name suggests, SUNRISE will try to reach the widest public possible and will work to bring benefits to the entire CCAM community worldwide.