Variable Message Sign technology from SWARCO is playing a key role in the Traffic Management Improvement (TMI) scheme at the Port of Dover, part of an £85 million capital investment programme to better manage and control vehicles through a new freight holding facility to remove more than 4km of queuing traffic from Kent's highways.
The Port has created a 13-lane holding zone catering for 220 outbound HGVs, limiting the need for Dover TAP (Traffic Access Protocol), a 'rolling road' HGV queuing system on the A20, and greatly reducing traffic and delays in Dover itself.
SWARCO won a competitive tender by FM Conway, the TMI scheme's main contractor, to install 15 signs: two are used to direct HGVs into Customs or the holding facility, depending on the quantity of traffic; the remainder are installed on a 57.5 metre-long gantry at the start of the holding facility, giving drivers clear information about which lane to enter.
Matt Smith, Head of Structures at FM Conway, explains SWARCO understood the long-standing relationship between the Port of Dover and FM Conway: "SWARCO aligned its service and support with ours to ensure that our partnering ethos was maintained throughout the project.
"Working to extremely tight timescales and programme changes, SWARCO carried out its works in a professional and accommodating manner which helped to ensure we delivered this project on time and to budget," Matt continued.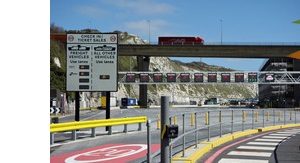 The signs, which were made to order within three months and include over 160,000 individual LEDs, were required to meet the Port's exacting light emission standards to cater for its 24/7 freight needs and reduce light pollution at night.
As a part of the contract, SWARCO also installed its management software, giving the operator 12 settings (which can be altered) for different scenarios; 65 traffic detection sensors with count in/out capability; and barriers, operated by a traffic light system, that mark the holding facility's end.
Tim Waggott, the Port's Chief Executive, said the Port of Dover is a crucial link of national and international importance: "However, we are never complacent and are constantly looking at ways to improve our service to UK plc.
"That's why we've invested millions in removing old buildings and installing new traffic management technology and infrastructure to create even more freight holding capacity."
Andrew Walker, SWARCO TRAFFIC Ltd.'s Business Development Manager, says technical advancements at ports furthers the smooth running of their operations: "Continued investment in our ports is required to support the UK's growing trade needs," he explains. "The installation at the Port of Dover emphasises SWARCO's ability to provide quality solutions and equipment to benefit the port, reduce traffic congestion in the local area, and enhance the UK's trading needs."
The Port of Dover handles £119 billion of trade annually, and saw record freight volumes of 2.53 million units in 2015, up five percent on 2014, and handles up to 17 percent of the UK's trade.
Original source: Swarco