The ecoDriver project is drawing closer to its 'Final Event', which will take place at the Mercedes-Benz Museum in Stuttgart, Germany, on 16-17 March 2016. Work is now in full swing to offer participants an attractive 2-days programme in a pleasant environment.
The event will feature keynote addresses from Christian Ballarin (Daimler Trucks),  Hermann Meyer (ERTICO – ITS Europe), Taco van der Leij (TomTom Telematics) and Luisa Andreone (CRF).
Project partners will progressively drive the attendants through the work carried out in the different work packages. Panel discussions and audience participation will provide opportunities to discuss the project's implications and future prospects.
Seven vehicles (six cars and a truck) will be available to demonstrate the different systems on public around Stuttgart, some of which participants will be able to drive. More details on how to book a spot on this 'demo' will be sent to registered participants early next year.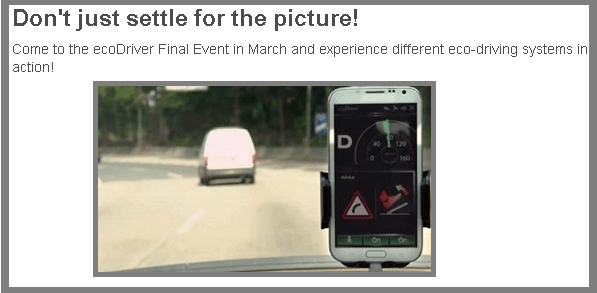 Participants will have the opportunity to visit the Mercedes Benz Museum after the closure of the final event.
The event is open for everybody to participate, although it will especially interest:
policy-makers in the fields of green mobility and carbon emissions reduction
researchers, academics, consultants and students with an interest in road transport, driver behaviour, green mobility, ITS or Human-Machine Interfaces
vehicle, and component manufacturers
transport operators and service providers.
Access is free but registration is required.
Special rates will be offered to registered participants in selected hotels, until 15th February 2016. For more information, click here
---

About ecoDriver
ecoDriver targets a substantial reduction of CO2 emissions and fuel consumption in road transport by encouraging the adoption of green driving behaviour with the support of eco-driving systems. A range of driving profiles, powertrains (conventional, hybrid, electrical) and vehicles types (passenger cars, vans, trucks, buses) have been tested.
To get a taste of what is in store, check out this video: