Just a hop, skip, and jump – or, as in the world of MaaS, a bus, flight, and train ride – away from its Brussels' headquarters, the MaaS Alliance arrived in Hamburg on 14 March. In anticipation of the day when this kind of journeys can be booked on a single platform, MaaS Alliance was in Hamburg to discuss the ideal MaaS world, the obstacles in achieving it and what can be done to tackle them.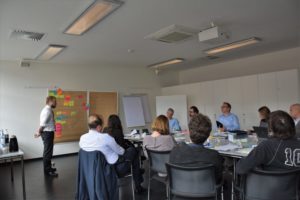 The workshop, organised by the MaaS Alliance together with the iMove project and kindly hosted by Hamburger Hochbahn, looked at MaaS from a technical, legal and business perspective. Speeches from representatives of Roland Berger, the International Association of Public Transport – UITP, Softeco, UbiGo, and Mosaic Factor were delivered in a packed room of more than 70 MaaS experts, from start-ups to international players, to public authority deputies interested in the potential of MaaS to transform mobility.
Following a warm welcome from MaaS Alliance President and ERTICO CEO Jacob Bangsgaard, UITP representative Caroline Cerfontaine took the floor to speak about the interdependence of public transport and innovative mobility services. She presented the idea of combined mobility as a solution that would allow public transport to remain competitive and offer growth prospects for new mobility services. Combined mobility integrates modern mobility solutions such as ride-sharing, car-pooling, bike-sharing, shared taxis (and others) with classic fixed-line and timetable-bound public transport solutions, together forming a complete and coherent mobility solution.
Alexander Dyskin from Roland Berger took this idea further, highlighting that the ownership of personal cars is decreasing and they are no longer being seen as a status symbol. Instead, mobility is becoming increasingly multi-modal, inter-modal, seamless, and door-to-door. Until recently, public transport differentiated clearly from car ownership, but shared mobility is bridging this divide and private car ownership is expected to deteriorate further. According to Mr Dyskin, it is commendable that so many different MaaS offerings are popping up. However, he also emphasized that this must be taken with a grain of salt, given that each of them have their own goals and objectives. Mr Dyskin urged operators to think beyond the boundaries of their own companies, to work together in creating a long-term vision of MaaS and how to achieve it.
In more practical terms, the iMove project will collect and provide information on sustainable business models and organisational MaaS frameworks that can be of use to operators in achieving the vision of MaaS. The project, presented during the workshop by project coordinator Mr Marco Boero (Softeco) and Mr Hans Arby (UbiGo), seeks to accelerate the deployment and unlock the scalability of MaaS schemes in Europe, paving the way for a "roaming" service for MaaS users at European level. Mr Arby emphasized that, despite there being different levels of MaaS integration, no one level is better than any other, as different services may be successful in different environments. The project will also look into behaviour change strategies, user engagement schemes, and long-term MaaS interoperability and roaming strategies.
Mr Stefano Persi (Mosaic Factor) discussed the importance of collaboration between public and private operators. Data sharing between public and private provides several opportunities to improve planning and overall services. It can also help better understand the demand at individual level. The bottom line in Mr Persi's presentation was that, although public authorities might be reluctant to do so now, MaaS models need to be analysed in order to prepare for the future.
After these inspiring speeches, workshop participants were asked to divide into four groups to discuss (1) principles of data-sharing (led by Mr Sebastian Hofer from Hamburger Hochbahn), (2) ownership of customer and branding (led by Mr Marius Macku from Uber), (3) sales channels and payment integration (led by Mr Sampo Hietanen, MaaS Global), and (4) governance models (led by Mr Rafael Cuesta, Transport for Greater Manchester). Regardless of the topic discussed, a word mentioned over and over again was "trust" – trust from users in the transport service operator (TSO), trust amongst TSOs in order to achieve an integrated MaaS solution, and trust between public and private operators to share data and cooperate to provide an optimal mobility solution.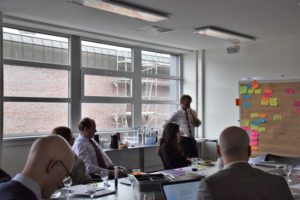 Several working groups also reflected on the fact that much of the work in MaaS is still today being done in silos and there is a lack of cooperation. The variety of players also hampers the development of MaaS, in particular as concerns the divide between legacy and digital services. Participants of the working groups on data sharing and on payment integration remarked that data is often in different formats and is therefore difficult to share amongst operators. Although, when it comes to payment integration, some schemes are already in place, but there is much more work that can be done. Moreover, sales and payment integration will become increasingly relevant as the importance of ensuring combined mobility rises.
Regulation complexity and the fact that legislation differs depending on the Member State causes additional complexities for the deployment of MaaS. The working groups suggested that regulation should be streamlined, where possible, and more work should be done on standardisation. Operators should investigate what can be readily bought and what needs to be customised. Then, areas for standardisation can be identified.
Both lack of cooperation and regulation complexity can be linked to issues of trust.
The working groups suggested that MaaS Alliance and UITP could work together to create an open and trusted network of cooperation amongst mobility operators, with its first task being the definition of a minimum set of rules necessary to allow for the creation of such a network. This workshop, thanks to the dedication of the participants, solidified the idea of a common vision and showed enthusiasm to make it all happen.
Source: MaaS