STORM, one of the top EU-funded projects in the ERTICO transport & logistics focus area, has come to an end. For 30 months, the project's consortium has worked to push the boundaries of smart freight research methods and tools in support of transport and mobility researchers and policymakers. The project held its final event during the IEEE Smart Cities Symposium 2023, hosted by the Czech Technical University in Prague, a project partner.
Started in January 2021, STORM (Smart freight TranspOrt and logistics Research Methodologies) is one of the ERTICO projects that contribute to bringing more sustainable and efficient transportation of goods. The project has assessed innovative methodologies to ensure the sustainable adaptability of the logistics sector to emerging needs and new trends. During this period, STORM has driven the adaptation of the freight sector to the latest technological innovations and EU legislation and promoted dialogue among stakeholders to foster new business models that respond to digitalization, the sustainable transition and policy needs. Unveiling STORM's key findings "Despite the challenges of Covid-19, the project was implemented at full capacity. The great interaction with a lot of companies and stakeholders gave the project consortium a good basis for research and implementation of new frameworks, methods, and tools with real data creating an impact by increasing the capacity and understanding of the freight and logistics community on the implications of various new technologies", states Mr Yancho Todorov (VTT), project coordinator. These are STORM's primary takeaways:
The project has proven the positive impact that data and cooperation with researchers can bring to companies.
The deployment of digital piloting tools for new last-mile delivery modes can foster decision-making.
The use of Augmented Reality helps to visualise complex information and can also facilitate decision-making.
Blockchain can be a powerful tool for security and transparency in logistics while securing information.
The introduction of electric trucks in the market for long-haul freight transportation has a significant impact on reducing greenhouse gas emissions and improving air quality. However, for their successful integration, it is crucial to develop an infrastructure that enables efficient charging and aligns with the traffic demands.
Mobility policies are ever-evolving, and the development of new digital assessment tools allows effective monitoring of their impact on freight and logistics chains.
Based on these findings, STORM has collected two sets of recommendations to bolster the development of innovative projects and initiatives:
STORM's Grand Finale: a roadmap for a promising smart freight future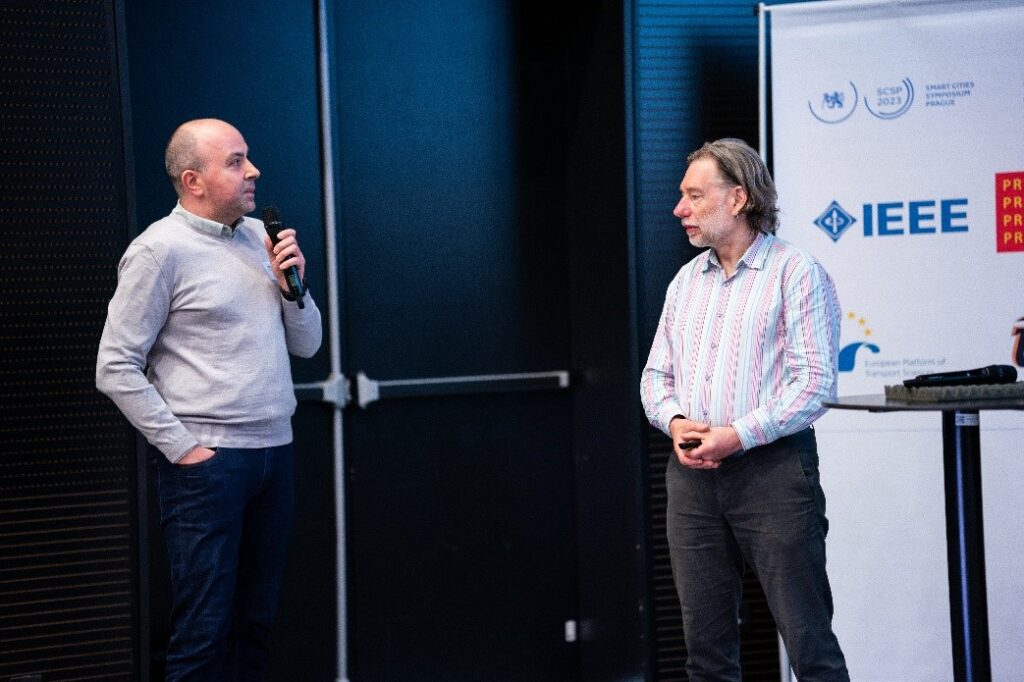 STORM partners celebrated the final event during a session at the IEEE Smart Cities Symposium 2023, which enhances the smart cities' resilience through research.  ERTICO was there with ERTICO partners VTT – Technical Research Centre of Finland and Chalmers University, as well as Fraunhofer-Gesellschaft and the Czech Technical University in Prague on 26 May, to exchange insights and results across various use cases and explore new pathways for the project's continuity.
During the session, Dr Johnathan Köhler (Fraunhofer ISI, Germany) presented an update on the readiness status to meet the latest freight and logistics trends in alignment with the European Union's policies. Mr Köhler concluded that the logistics sector is rapidly moving towards digitalisation and carbon neutrality. STORM evaluated the performance of an analysis tool for EU policy to enhance digital transformation and reduce greenhouse gas emissions in logistics.
Dr Wasim Shoman's (Chalmers University of Technology) presentation focused on the analysis of the project's findings for optimal charging infrastructure integration for heavy-duty trucks in the supply chain. STORM's principal outcome in this regard is the creation of a dataset of spatial data to enable the generation of charger stations following specific charging requirements.
STORM coordinator Yancho Todorov (VTT) presented the project's findings on the Innovative City Logistics use case to mitigate noise, pollution and CO2 emissions. Mr Todorov explained how the digital twin enables the assessment of electric vehicles, drones, and various technologies in terms of Total Cost of Ownership (TCO), helping city logistics operators to select suitable vehicles for their new zero-emission fleets.
Building Bridges: Engaging Stakeholders and Expanding Global Reach
Throughout the project, STORM has engaged with stakeholders like ALICE (The Alliance for Logistics Innovation through Collaboration in Europe) and other sister projects like BOOSTOLOG, AWARD or URBANIZED. Following this collaborative spirit, the project has been presented at several international congresses and conferences to share its knowledge and further connections with other initiatives. For the past three years, STORM participated in relevant events such as the Transport Research Arena (TRA 2022), the Road Transport Research Conference (RTR 2023), the ITS World Congress 2021 in Hamburg, and the ITS European Congresses in Toulouse (2022) and Lisbon (2023).
With the end of the project on 30 June, STORM leaves a valuable toolbox of exploitable results to move towards a sustainable and competitive freight future. Some of STORM's outcomes will also continue to be developed through the networks it has established.
The STORM project has received funding from European Union's HORIZON 2020 research and innovation programme under Grant Agreement No 101006700.