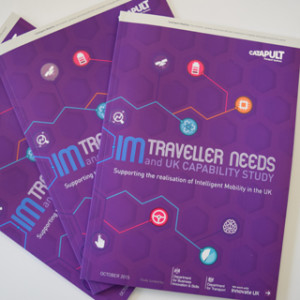 Elite Innovation Centre, the Transport Systems Catapult, has identified key areas of development in the Transport Network, in the UK's largest ever traveller experience study 'Traveller Needs'.
75% of journeys are characterised by pain-points according to an extensive research conducted by the Transport System's Catapult with 57% of travellers always looking for ways to optimise their journeys.
Public transport is considered to be poor value for money with the 'high cost of the journey' being the most cited pain-point (17%). For private cars, the 'start-and-stop' nature of driving along with parking are the most cited pain-points (12% each).
Multi-modal journeys are especially painful for UK travellers and each interchange increases the number of pain-points experienced. Interestingly, 31% of journeys made today in the UK would not have been made if alternative means were available that didn't necessitate physical travel (i.e. 'virtual mobility').
The research conducted in the unprecedented study comprised of 10,000 online questionnaire respondents, 50 company interviews, and 100 expert interviews.
The study indicates that the answer to the issues lies in the emerging "Intelligent Mobility" industry – utilising emerging technology such as autonomous vehicles, with 39% of those survey indicating they would consider driverless cars today, as well as exploiting mobile data to enable user-focused, integrated, efficient and sustainable transport systems. Such a solution would break down the barriers between distinct transport services to offer smart, seamless, end to end journeys.
Transport Systems Catapult CEO Steve Yianni commented:
"The Traveller Needs and UK Capability Study offers a clear pathway to providing the improvements travellers desire in their journeys. We've identified four transformational themes in the study – Access, Automation, Demand and Supply and Integration – which offer roadmaps towards smarter "Intelligent Mobility" service for travellers. On their own, the long-term visions for each of the four areas we have identified would revolutionise how we move people and goods around the world, but they will exhibit even greater step change when they are combined."
"There is also a clear economic argument for doing this. The study has identified 10 Value Spaces for Intelligent Mobility with estimated £56bn of revenue opportunities in the UK alone and previous research has suggested that this global market will be worth around £900bn annually by 2025. If we focus on increasing capability in areas such as Data Privacy, Connectivity and Traveller behavior we can have the opportunity to create a world leading "Intelligent Mobility" industry – bringing jobs and economic growth to the UK."
For more information and to download the complete study click here.
Original source: Transport Systems Catapult