We're big believers in presenting information in new and engaging ways – just check out some of our 3D city models – but the latest tabletop demonstration at CES looks like one of the most innovative yet. We call it the 'Future Mobility Visualiser' – says HERE.
The interactive table has been designed to illustrate different trends within a city both today and in the future, with a huge touchscreen display that can show connectivity changes and trends including urbanisation, electrification and the impact they have on both individuals and the city itself.
With the Future Mobility Visualiser, you can actually visualise what the information means and play around with different scenarios.
We picked Berlin as a location for the demonstration, with a massive interactive map showing up in the middle of the table. Berlin was ideal for the demonstration as it's a typical urban environment that's facing the problem of a growing population and challenges of mobility.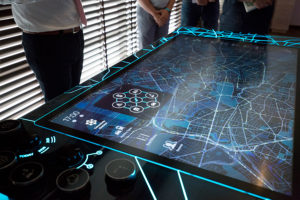 To make the Future Mobility Visualiser more engaging, our team added interactive chips incorporating Capacitive Sensing solutions, which work alongside the touchscreen and bring up different information when placed on the table. The chips can be put on different road segments within Berlin to highlight information like the speed limit compared to the actual speed of traffic in the area on a given day. It's not just about data analytics and data visualisation – it's also very engaging and we've managed to have lots of great discussions with audiences.
With our capabilities in map making and data aggregation, our strong portfolio of products and solutions and our customer base, HERE is well positioned to enhance mobility, improve safety, reduce the environmental impact and increase the quality of life for citizens, consumers and customers. The Future Mobility Visualiser makes it possible to demonstrate to partners and customers exactly what HERE is capable of, leveraging location intelligence from many different sources to highlight how mobility and connectivity can impact the world now and in the future.
Continue reading the article on HERE website.