This year's ITS (UK) award winners have been honoured at a celebration dinner hosted by Society President Steven Norris in Birmingham.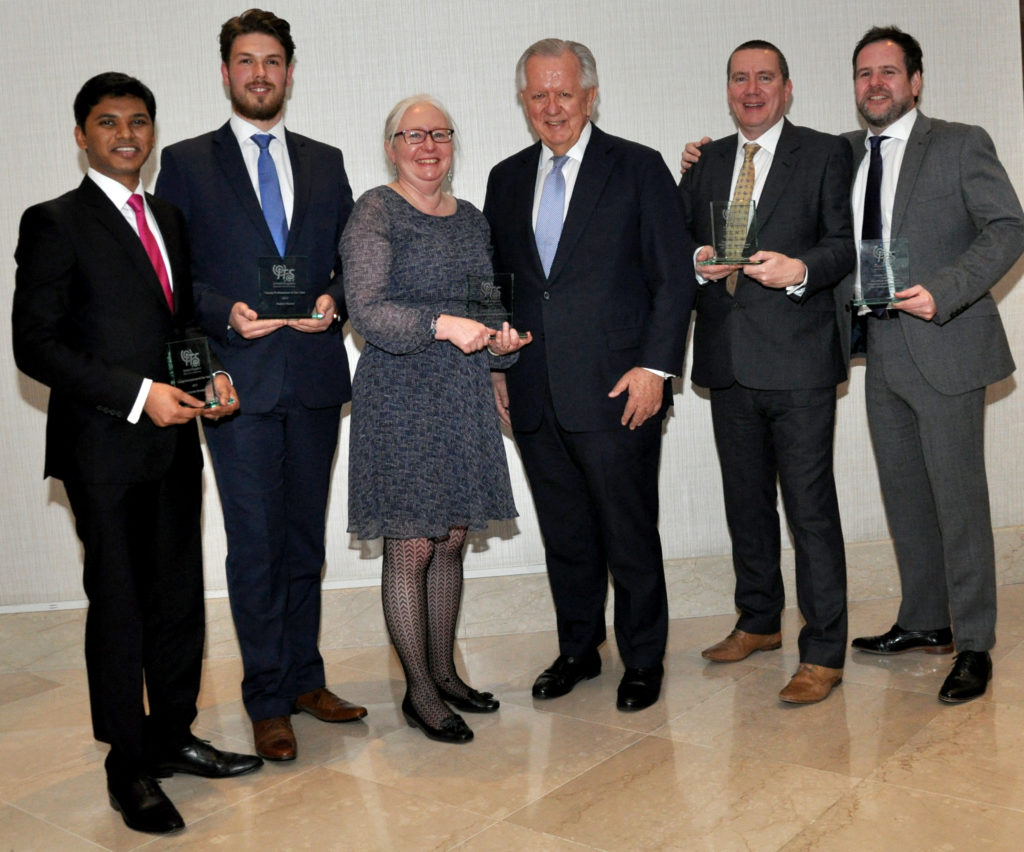 Four awards were made during the evening to four individuals or organisations, although one prize was shared by two people, while one organisation won two prizes. There was also an honour for the driving force behind ITS (UK), its Secretary-­‐General Jennie Martin.
Clearview Intelligence won both the UK Scheme of the Year and the and the Forward Thinking Award for Innovation, along with its partners Transport Scotland, Amey, BEAR (Scotland), and Edinburgh Napier University, for the Sheriffhall Roundabout: Mitigating Lane Transgression with the Intelligent Road Stud. The solution involved introducing an LED intelligent road stud to the key six-­‐arm roundabout on the A720 Edinburgh City Bypass, which handles upwards of 42,000 vehicles a day, it's the only at-­‐grade junction on the City Bypass and the high traffic volumes mean it's often heavily congested.
The judges agreed it represents a significant innovation in the management of lane discipline on roundabouts and can be readily replicated on similar junctions to improve safety.
There were two winners of the Young Professional of the year award. Robert Burns, a consultant at Mouchel was praised for the operational safety workstream on the high profile M1 J28 to J35A smart motorways scheme -­‐ through the construction and initial operational phases and the delivery of the comprehensive and innovative approach to monitoring of smart motorway schemes.
Siddartha Khastgir is one of the UK's youngest chartered engineers at the age of 26. He is currently a PhD student, but before taking this role at the University of Warwick, he had already achieved considerable success in automotive engineering. In his current research, he is developing new methods and knowledge necessary to test autonomous vehicles to ensure their dependability and to make them commercially viable, and is consequently accelerating their introduction. Reacting to his award, Siddartha said how he wanted to thank ITS (UK) for giving him such a prestigious honour and that he will do his best to live up to the expectations.
The last honour of the night went to one of ITS (UK)'s own, Secretary General Jennie Martin, recipient of the Neville Rees and Peter Hills award for outstanding personal contribution by a UK ITS professional. It was in recognition of Jennie's near 20-­‐year career at the society, including more than 12 in her present role. In this time, the judges agreed, ITS (UK) has gone from strength to strength and maintained stability through what they called some "trying times". ITS(UK) today has 31 Foundation and 107 Corporate Members and successfully operates around 20 Members' Interest Groups.
Jennie's personal contribution to the success of ITS(UK) is down to her strong organisational abilities, her open, warm and outgoing personality, and her dedicated and professional commitment to the organisation. She has helped nurture other national associations and has become a high profile ITS leader. Jennie chaired the European Network of ITS Nationals (27 organisations) with distinction and continues to participate as a member of the Coordination Committee.
Jennie is the first woman to win the award and she accepted it on behalf of all the women in ITS. Jennie described her honour as "humbling" and added that she also accepts it, "for the whole of ITS (UK). All the members are so supportive and it wouldn't have happened without them."
Next year's awards will take place at the President's dinner in London.
Picture shows the winners with ITS (UK) President Steven Norris
Ends
---
To read a pdf version, please click here.
ENQUIRIES:
For further information, please contact:
Paul Hutton
Communications Manager, ITS (UK)
Tel: +44(0)20 7709 3003
Email: mailbox@its-uk.org.uk
Notes to editors:
ITS UNITED KINGDOM, the UK association for the promotion of Intelligent Transport Systems (ITS), is a not-for-profit public/private sector association financed by members' subscriptions, and provides a forum for all organisations concerned with ITS. We work to bring the benefits that ITS can offer in terms of economic efficiency, transport safety, and environmental benefits to the United Kingdom – and at the same time expand the ITS market.
The membership, around 150 UK organisations, comprises Government Departments, Local Authorities, consultants, contractors, manufacturing and service companies, and academic and research institutions.
Members benefit from ITS United Kingdom activities including seminars, workshops and regular news dissemination. ITS United Kingdom encourages discussion on issues such as public/private cooperation, standards, legislation, information provision and new technology.