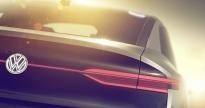 Volkswagen will be launching a new range of avant-garde electric vehicles in the near future. This month, Volkswagen is providing a first look at a new important frontrunner of electric mobility in the world premiere of a crossover concept vehicle at Auto Shanghai 2017 (19 to 29 April). The concept car is the brand's first electrically powered crossover utility vehicle (CUV) – a four-door coupé and sport utility vehicle (SUV) in one.
After the premieres of the I.D. (Paris, 2016) and I.D. BUZZ (Detroit, 2017), this concept car follows as the third progressive member of the I.D. family – a new generation of zero emission vehicles.
---
Related content:
---
A long driving range on the same level of the range of today's petrol powered cars makes it suitable for long trips. Like the I.D. and I.D. BUZZ, this concept car can also drive fully autonomously. All it takes is a light push on the VW badge on the steering wheel to activate this autonomous mode. The steering wheel retracts electrically into the cockpit where it forms a single unit with the displays and controls that have been implemented fully digitally. The electric vehicle recognises its surroundings and other road users via laser scanners, ultrasonic and radar sensors and cameras.
Volkswagen has set the clearly defined goal of advancing electric drive vehicles from the status of a start-up niche to large-scale production models by the middle of the next decade in a worldwide product offensive
For the full story, please click here.
Source: Volkswagen