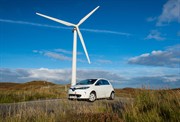 A 10-strong fleet of 100% electric Renault vehicles powered almost entirely by renewable energy can now be hired, on an hourly or daily basis, by residents and visitors to the Outer Hebrides of Scotland.
Much of the electricity needed to charge the electric vehicles will be generated by the Pentland Road Wind Farm. The nine ZOE hatchbacks and a Kangoo Van Z.E. have been introduced through a unique partnership between E-Car Club and the wind farm operators. The Renault models' specification, fun drive, reliability and excellent customer feedback (98%, a level never reached before at Renault), were key factors in the decision to integrate them in the car sharing scheme.
Representing an investment of £24 million and developed over a 12-year period, Pentland Road Windfarm will generate power for the new vehicles as part of providing renewable electricity to the islands. Such is the efficiency of the wind farm and the suitability of the local climate to support wind power, the six turbines will supply sufficient electricity to meet the entire domestic load of the Outer Hebrides.
A Renault EV's carbon footprint can only decrease with time, as the production of renewable energies grows. In comparison, an ICE car's carbon footprint will always remain the same. According to the International Energy Agency, 7 million EVs on the road could help save 400,000 oil barrels per day by 2020.
Original source: Renault