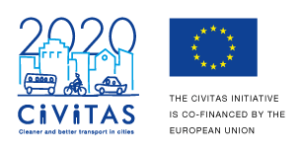 A sustainable urban mobility network that helps cities and organisations in Slovenia, Croatia and southeast Europe learn about and exchange experiences on mobility and transport has officially admitted over 100 members.
The Slovenia-Croatia-SEE network is part of CIVINET – a group of European city networks, created by the EU-funded CIVITAS Initiative, that promotes local sustainable urban mobility.
The network now has 103 members, mostly made up of cities – 14 from Slovenia, 21 from Croatia, three from Serbia, one from Bosnia and Herzegovina and one from Montenegro.
Other members include stakeholders in the field of sustainable transport and mobility, such as civil society organisations, public transport companies, institutes, universities, experts and ministries responsible for transport.
There are over 220 active members of CIVINETs across Europe, who exchange information in their own language and work together to engage with the EU and national governments on transport policy issues, legislation, regulations and funding.
The CIVINETs have access to EU-funded professional placements and training. Meetings of all the national CIVINET network secretariats and managers take place twice a year.