The EAVP platform is making great strides to foster and harmonise automated valet parking across Europe. The Platform's 'AVP Customer Journey' defines the entire process of booking, payment, and autonomous parking in a standardised and simple way. The streamlined user experience will make the service safer and more convenient.
The range of possibilities for automation in the transport and mobility sector is widening, and parking is one area where this revolutionary effect is already being felt. EAVP (European Automated Valet Parking) is the ERTICO multi-stakeholder innovation platform to foster collaboration to deploy an ecosystem to reimagine parking real estate. Through this hands-on cooperation, EAVP aims to help overcome a major challenge facing cities regarding traffic management and enable parking operators and other related service providers to boost their services and explore new business opportunities.
EAVP also aims to elevate the user's experience by supplying seamless parking. To achieve this, the platform's members have launched the 'AVP Customer Journey', a detailed automated process where the driver can book and pay for the parking service with a smartphone app, and the vehicle and parking lot communicate to find a free spot, park, and return the car to the pick-up area autonomously.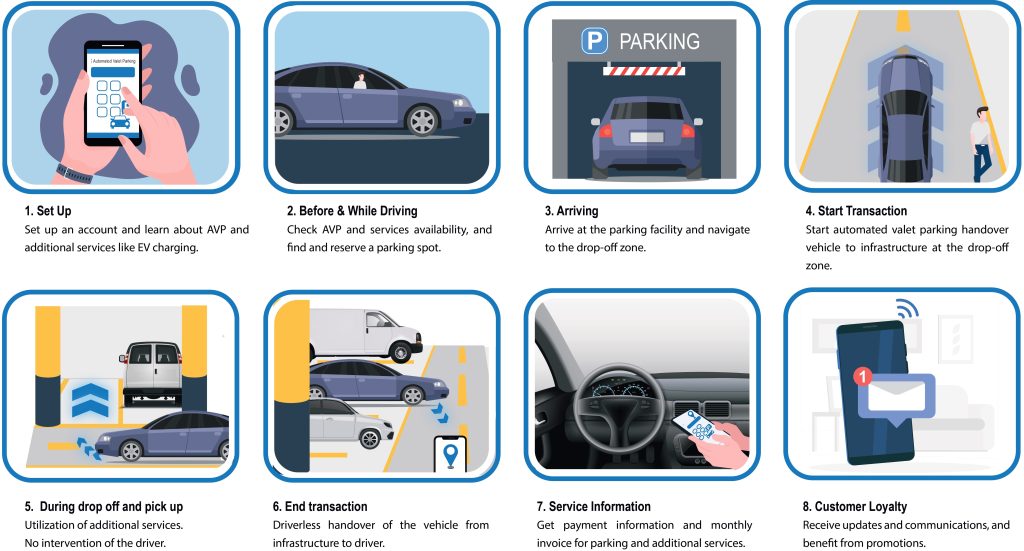 The platform members BMW, Bosch, the European Parking Association (EPA), and Kopernikus Automotive are the leading partners behind the user journey.  "BMW sees great potential in the value of AVP as a first L4 application for drivers and operators of parking and logistics facilities. Together with all the EAVP members, we are contributing to the set-up of a seamless customer journey around AVP and the necessary development of the ecosystem to link AVP to established parking processes and services. In doing so, we aim to drive forward technical and operational market preparation in parking environments and the roll-out of AVP across the parking industry", says Simone Frank from BMW.
The human action in this process is reduced to booking and paying with the same phone application, leaving the vehicle in the drop-off zone, and picking it up afterwards. This greatly enhances the driver's experience, relieving the hassle of looking for available parking spots and eliminating complex manoeuvres.
Through this customer journey, EAVP seeks to streamline the automated valet experience and provide a standardised process that harmonises how users book, pay and park their vehicles to maximise convenience and increase safety and efficiency.
The platform members pursue a holistic approach to automated parking. They will foster novel AVP technologies to further user benefits, with supplementary services like automated electric vehicle charging, car wash, and even minor repair work, enhancing the overall user experience.