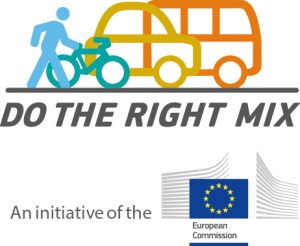 Following EUROPEANMOBILITYWEEK 2015, the DO THE RIGHT MIX campaign is now launching the 4th Sustainable Urban Mobility Plan (SUMP) Award.
The SUMP Award recognises local authorities that demonstrated excellence in applying this year's EUROPEANMOBILITYWEEK theme of 'multimodality', which encouraged citizens to combine different modes of transport.
The winning three regions or local authorities will receive a high-quality promotional video showcasing their mobility efforts, as well as wide-spread promotion through the DO THE RIGHT MIX media channels.
Towns, cities and local authorities from the European Union's 28 Member States and the European Economic Area are eligible to apply. Applications are accepted until 13 November 2015. Up to ten shortlisted applicants will be invited to attend the joint EUROPEANMOBILITYWEEK and the SUMP Award Ceremony, which will take place in March 2016 in Brussels (Belgium).
At this event, the winner and two additional finalists will feature in a special video clip presenting their multimodal success to a community of regional authorities highly engaged in EUROPEANMOBILITYWEEK.
The previous SUMP Award winner, Bremen (Germany), won thanks to its well-developed methods in monitoring and evaluating its SUMP, using an interactive web platform to gather feedback from residents. Bremen used this information to conduct a SWOT (strength, weakness, opportunity, threat) analysis and examined five different scenarios outlining the effect of various measures, like major investment in public transport and promoting walking and cycling. In particular, the judges appreciated Bremen's commitment to continuous learning and its ability to communicate these lessons effectively to stakeholders.
See more at eltis.org