Ceit-IK4- within the framework of the I-HEeRO project- is developing a system that allows motorcycles to call emergency services in an accident.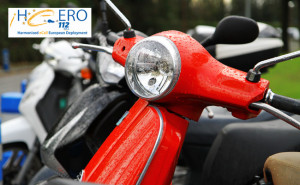 Researchers from the Applied Mechanics department at Ceit-IK4 are part of the I_HeERO project, whose objective is to create the infrastructures that will support the eCall electronic safety system.
The eCall system allows the vehicle itself to call emergency services in the case of a serious accident, giving it the chance to be the hero that helps saves a life.
Starting in March 2018 the eCall device will be a standard feature in all passenger vehicles, while there is still no specific target date for motorcycles. Ceit-IK4 is member of the work group that is in charge of developing the system for two-wheeled vehicles. The project's results will be used to determine the recommendations for installing and certifying the eCall system in motorcycles.
The research project, which is being led by the Ministry of Economics, Labour and Transport of Lower Saxony (Germany), is made up of 55 partners from a range of European countries and has a budget of 30 million euros, which is funded by the European Commission via the CEF Transport Sector programme.
Original source: Ceit-UK4