On 10 October, GUIDE, in collaboration with the European Health and Digital Executive Agency (HaDEA) and DG Connect, organised a workshop aimed at advancing 5G corridors across Europe. Coen Bresser, Senior Manager of Innovation and Deployment at ERTICO, moderated a roundtable discussion on the lessons learned from the transition from research to deployment with CEF 5G Corridor Project Coordinators.
The 5G Corridors Workshop, which was hosted by the European Commission in Brussels, was a platform for the comprehensive review and discussion of the two 5G Strategic Deployment Agendas (SDA) published in 2020, for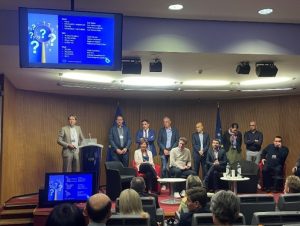 road and rail. The workshop's goal was also to provide guidance from the public and private sectors' efforts on the deployment of 5G corridors and to spur the creation of the EU-funded projects pipeline. CEF Digital 5G corridors projects and stakeholders such as mobile network operators, cellular tower companies, car manufacturers, rail, road, waterways infrastructure operators and managers, and national authorities were the invited participants of the workshop. Peter Stuckmann, the Head of Unit of DG Connect, reiterated the Commission's mission to secure investments for Pan-5G networks in support of Connected and Automated Mobility (CAM). The collaborative effort of the 5G corridors stakeholders is dedicated to maintaining seamless alignment with this vision in order to craft and execute a comprehensive strategy for 5G technology deployment.
The Game-Changing Potential of 5G Corridors for European Mobility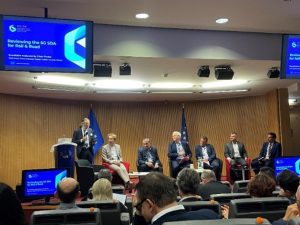 The deployment of 5G cross-border corridors along critical transportation routes in Europe is expected to contribute to the region's green and digital transformation. Notably, the implementation of 5G-enabled CAM is poised to be a game-changer, enhancing transport safety, optimising traffic management, reducing CO₂ emissions, and boosting industrial competitiveness across all transportation and mobility sectors. 5G corridors are a key requirement to realise pan-European automated transportation. This transformative potential extends beyond road transport and includes rail and waterways, all of which stand to benefit from advanced 5G infrastructure to optimise their respective use cases and services.
Carrying Forward the Legacy of Past Projects
GUIDE is a Coordination Support Action (CSA), funded under the Connecting Europe Facilities (CEF) Digital programme, that aims to ensure that the needs of the stakeholders in the 5G corridors ecosystem are reflected in the CEF Digital work programmes, and to coordinate the 5G SDA for CAM. To this end, one of the CSA's goals is to collect and disseminate the best practices from previous CEF 5G corridor research and deployment projects. In its quest to deliver common approaches leading to a consistent deployment across the EU, GUIDE will also make good use of the groundwork prepared by projects such as 5G-MOBIX.
Led by ERTICO, the highly influential 5G-MOBIX project engaged over 60 partners across 13 countries, from the EU, Turkey, China, and Korea, to develop and test automated vehicle functionalities using 5G core technological innovations along cross-border corridors and urban trial sites. The Horizon 2020 project together with its ICT-18 sister projects, 5GCroCo and 5GCARMEN, published a whitepaper on the potential of 5G technology for boosting CAM services, particularly in cross-border contexts, including a comparison with 4G. Importantly, the three projects submitted individual deployment studies of 5G for CAM on their respective corridor pilot sites, with the aim of providing a solid starting point for CEF2 projects and private investments. Says Coen Bresser, who was the project coordinator of 5G-MOBIX and is ERTICO's lead in the GUIDE project, "The 5G-MOBIX deployment study, along with those of  5GCroCo and 5GCARMEN, can serve as a blueprint for the widespread deployment of 5G corridors throughout Europe".
Stakeholder Engagement and Cooperation in Advancing 5G Corridor Deployment
Active engagement with stakeholders in strategic dialogues, aimed at defining priority deployment roadmaps and exploring various cooperation models, serves as fertile ground for the exchange of best practices and lessons learned from ongoing initiatives. During the 5G Corridors Workshop, Coen Bresser moderated a roundtable discussion in which 12 CEF 5G Corridor Project Coordinators shared valuable insights garnered from their experiences, delving into the details of their individual project use cases. This exercise shed light on the challenges they faced and the promising opportunities they discovered. It became clear that establishing a well-defined deployment strategy and fostering productive collaborations with industry stakeholders are indispensable prerequisites for advancing in this dynamic field. "In the context of deployment, having a clear destination is essential. Cooperative efforts ensure that everyone is synchronised. The SDA serves as both a source of clarity and a guiding roadmap for seamless deployment", says Mr Bresser.
The Brussels workshop marked a significant occasion in the journey toward the widespread deployment of 5G corridors across Europe. It brought together key stakeholders, experts, and decision-makers to strategise, share knowledge, and foster cooperation. The event showcased the immense potential of 5G corridors for mobility and the knowledge shared during this gathering will push forward the research and implementation of 5G corridors. With the commitment and determination of all those involved, the vision of a greener, smarter, and more connected Europe is one significant step closer to becoming a reality.