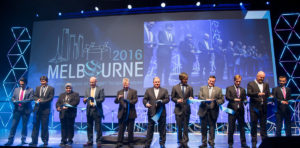 On March 17, the Australian Federal Government completed its report of the 2016 ITS World Congress High Level Policy Roundtable.
The 23rd Intelligent Transport Systems (ITS) World Congress was held in Melbourne, Australia from
10 October 2016 to 14 October 2016. The aim of the annual congress is to bring together the world's transport leaders and policymakers to discuss the role of emerging technology in improving transport safety, effectiveness and sustainability.
---
Related content:
---
"Intelligent Transport Systems Enhancing Liveable Cities and Communities" was the theme of the 2016 congress.
The first key event of the congress was the Intelligent Transport Systems High Level Policy Roundtable (the Roundtable). This event preceded the official welcoming and opening ceremonies and was attended by International Transport Ministers, Mayors and other senior ITS experts.
The Hon Darren Chester MP, Australian Government Minister for Infrastructure and Transport, and Mr Brian Negus, President of Intelligent Transport Systems (ITS) Australia hosted the Roundtable, which welcomed 100 participants, representing 22 Countries.
Delegates at the Roundtable shared the top three ITS challenges within their countries and outlined current and or emerging ITS initiatives. These were followed by regional overviews from four ITS Regions – Asia Pacific, America, Europe and Australia.
To read the full report, please click here.
Source: ITS Australia