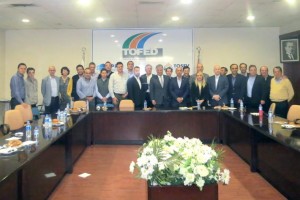 Best practices in coach tourism and urban bus rapid transit were on the agenda for the Mexican National Chamber of Automobile, Passenger and Tourism during a two-day visit to Istanbul this week.
Organised by IRU, the group visited Istanbul Buyuk Otogari and Metro Tourism on the first day, meeting with the Chief Executive of Metro Tourism. Ideas and best practices were exchanged on the passenger transport sector in both Turkey and Mexico, and how good policies, infrastructure and services for coach tours are important to grow tourism.
Public transport was the focus of the second day, with IRU introducing the Mexican group to İETT, Istanbul's main public transport operator. Discussions centred on the development and implementation of Istanbul's Metrobüs, its landmark Bus Rapid Transit (BRT) system, and how it has improved passenger service and the city's overall public transport system.
The group also made a technical visit to the İETT control room, and toured the actual Metrobüs line to gain a first-hand experience of this innovative service.
Metrobüs recently won the IRU Smart Move Bus Excellence Award, with the political commitment of both Istanbul city authorities and İETT being particularly noted by the jury. Connecting most of Istanbul's major metro and tram lines, the 50km route is now used by 800,000 people every day.
Original source: IRU