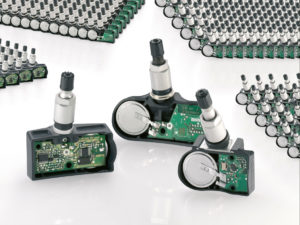 Continental is celebrating a major anniversary: In July 2016, the production of the 200 millionth tire pressure sensor took place. Continental´s locations in France (Toulouse), Korea (Icheon) and Mexico (Guadalajara), which substantially contributed to this success, supply a large number of automobile manufacturers in Europe, Asia and America. "Since our first developments 16 years ago and the start of production in 2002, we have continuously developed the technology of our tire pressure sensors and optimized the costs so that our sensors can be used in all vehicle classes. We are very happy to be able to continue our success with the number of 200 million manufactured units," says Andreas Wolf, head of Continental's Body & Security business unit.
Safer and more efficient: sensors meet the requirements of the automotive mega trends
Continental is convinced of the advantages of direct tire pressure monitoring systems and therefore focuses on producing suitable sensors. The direct measurement method is based on a sensor inside each tire to collect fast, direct and accurate readings of the air pressure and to provide the relevant information immediately. The market has also recognized the advantages of direct measuring systems: in Europe, for example, two thirds of vehicles, which are equipped with tire pressure monitoring systems, already use the direct method. This figure is even over 85% in North America.
"The safety and environment mega trends in the automotive industry are particularly important to us in developing our products and solutions. We have recognized the advantages of tire pressure monitoring sensors for these trends and are therefore continuously developing our technology. Our sensors are already making driving safer and more efficient," adds Wolf.
The sensors ensure more safety by actively helping the driver to maintain the recommended tire pressure. The driver receives accurate information about the status of the tire pressure and can react immediately. This optimizes the vehicle's handling performance and reduces the risk of breakdowns and accidents. For example, the braking distance increases by over six meters on a wet road surface at a speed of 100 km/h and a tire pressure of 1.6 instead of 2.1 bar. In other terms: while a car with optimum tire pressure has already stopped, the vehicle with excessively low tire pressure is still moving at a speed of 33 km/h. With regard to the environment, the right tire pressure optimizes the rolling resistance and reduces tire wear. As a result, the vehicle drives much more efficiently and consumes less energy while rolling. If the tire pressure of all four tires of a vehicle is 0.2 bar too low, fuel consumption rises by as much as 1%. This figure rises to 4% if there is 0.6 bar pressure loss and the service life of the tire falls by 45%.
Since November 2014, all new cars in the member states of the European Union must be fitted with a tire pressure monitoring system.
Original Source: Continental