The European Commission named 2018 the year of Multimodality which inspired ERTICO, IRU and the MaaS Alliance to organise an homonymous event on 24 January in Brussels with the support of MEP Wim van de Camp, also member of the TRAN Committee, and Matthew Baldwin, Deputy Director General at DG MOVE. A full room at the Residence Palace heard and talked about innovative solutions to crucial aspects of today's mobility needs.
Wim van de Camp, the Master of Ceremony of the event, opened the floor to keynote speaker Matthew Baldwin and moderated the panel with Jacob Bangsgaard, CEO of ERTICO, Matthias Maedge, General Delegate of IRU, Claire Depré, Head of Unit, Sustainable and Intelligent Transport, DG MOVE and Piia Karjalainen, MaaS Alliance Coordinator.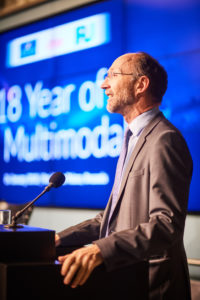 Taking the floor first, Deputy Director Matthew Baldwin expressed his gratitude to ERTICO, IRU and the MaaS Alliance for their "consistent support" in trying to achieve in transport and mobility policy and coming forward with new, "absolutely crucial"ideas.
Although listing a series of failures of the transport sector, Baldwin delivered a speech full of hopes and goals to be achieved in the years to come.  Sustainable and clean mobility, economic strength, efficiency and social inclusion were the three pillars of a speech which concluded with an inspiring and encouraging message: "In the future, it may not just be a question of competing to survive, but connecting to survive". Mr Baldwin full speech is available here.
Mr Bangsgaard called for a stronger cooperation across sectors and partners, underlining also the need to unlock the full potential of transport modes; "re-regulations", "user-centric" and "digitalisation" are ERTICO's CEO's three key word for this year. Mr Maedge and Ms Depré set the focus on Multimodality not only for passengers, but also for freight transport. Matthias Maedge invited the public to think about the high dependence of society on transport, stating that if transport was blocked for 48 hours, many every-day goods available for citizens would not be delivered, setting then the basis for extreme, negative consequences.
Piia Karjalainen, MaaS Alliance Coordinator, summed up her vision of multimodality with the three keywords "integration", "user" and "co-creation", underlining the importance for the development of new transport solutions under a user perspective, cooperation between the public and private sector and integration of different modes to solve the main problem of capacity and congestion in cities.
It was an ho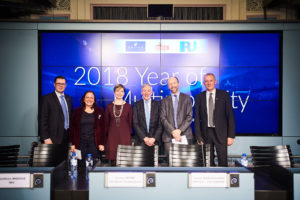 nour to have such important guests, contributing with their knowledge and ideas to a field which is increasing its importance as technologies advance and social and environmental challenges arise. The multimodality event paved the way for the first ERTICO "Focus On" thematic workshop. Held the following day, the workshop focused on MaaS and gathered many ERTICO Partners and Innovation Platforms members to discuss on new mobility solutions.
It was an exciting and rewarding turnout of an initiative full with hopes, expectations and willingness to provide users with new and innovative mobility solutions in the future.
Get a better insight of the event! Click on the image below to see all the pictures.