Brussels, 22 August 2022. Today, ERTICO – ITS Europe and the European Space Agency (ESA) sign a Memorandum of Intent (MoI) at the ESA-ESTEC offices in the Netherlands to further safer and smarter mobility. The collaboration will explore space technology and services to improve the safety and reliability of assisted and automated vehicles on European roads and promote innovation in the sector. Through this partnership, ERTICO and ESA will pave the way for developing and commercialising cutting-edge and more sustainable technologies to support the transition in the transport and mobility sector through the twinning of digital and green.
"I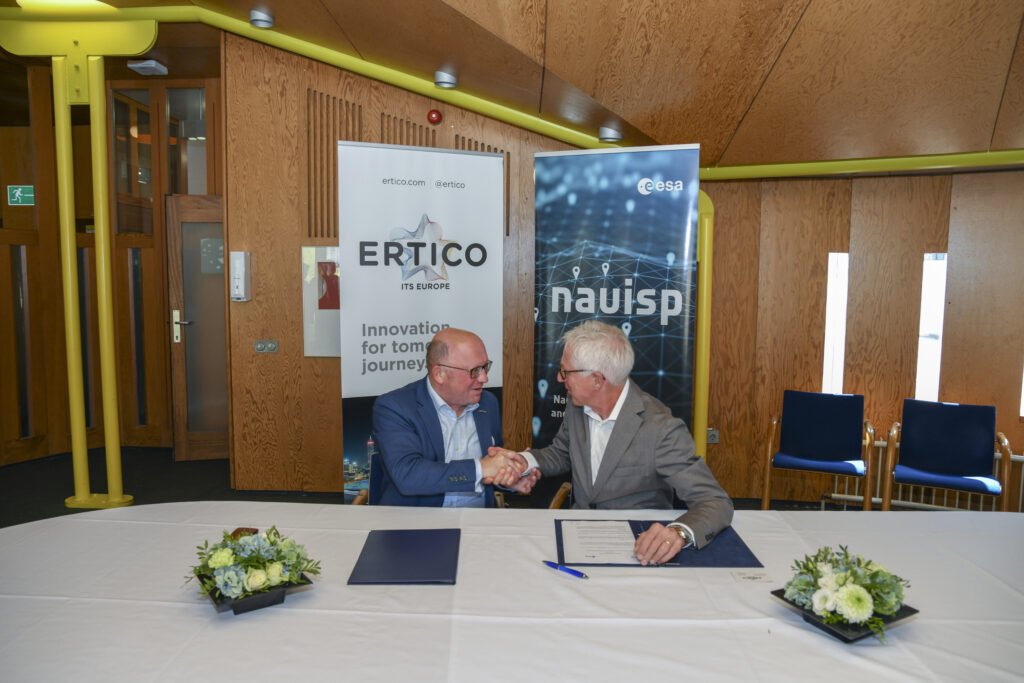 am proud to deliver this new impetus for our ERTICO Partners and the whole transport and mobility sector. Connecting the dots is ERTICO's DNA," says Joost Vantomme, ERTICO CEO. "Today is another example of how we broaden and build bridges in the entire ecosystem. Both our organisations have the potential to enable use cases that truly demonstrate the value of connectivity and geo-positioning through satellite communication."
"Today's memorandum represents a big step towards a more efficient, safer and sustainable transport sector in Europe by using space-based applications and services. Through various activities, including European co-funded projects, innovation platforms and international cooperation advocacy, the partner members of ERTICO have been advancing state of the art in transport for more than two decades," comments Javier Benedicto, ESA's Director of Navigation. "ERTICO's comprehensive roadmap defines a future where vehicles communicate with each other, the roads they drive on and other infrastructure – but also highlights the fundamental need for ubiquitous, precise, and reliable positioning, navigation, and timing information – PNT. This is the very focus of ESA's Navigation Innovation and Support Programme, NAVISP, so the potential for synergy is evident and enormous."
ERTICO fosters smart mobility and sustainable transport by promoting and developing Intelligent Transport Systems and Services (ITS) through various activities. The activities of ERTICO's partnership fall under its focus area of Cooperative, Connected and Automated Mobility (CCAM), as well as those falling under the projects and platforms supporting Clean and Sustainable Mobility, which aligns with ESA's Navigation Innovation and Support Programme (NAVISP). NAVISP examines new ways to provide reliable Positioning, Navigation and Timing (PNT) information, a fundamental aspect of the development of automated vehicles and for the future of navigation and the future of traffic management and mobility management.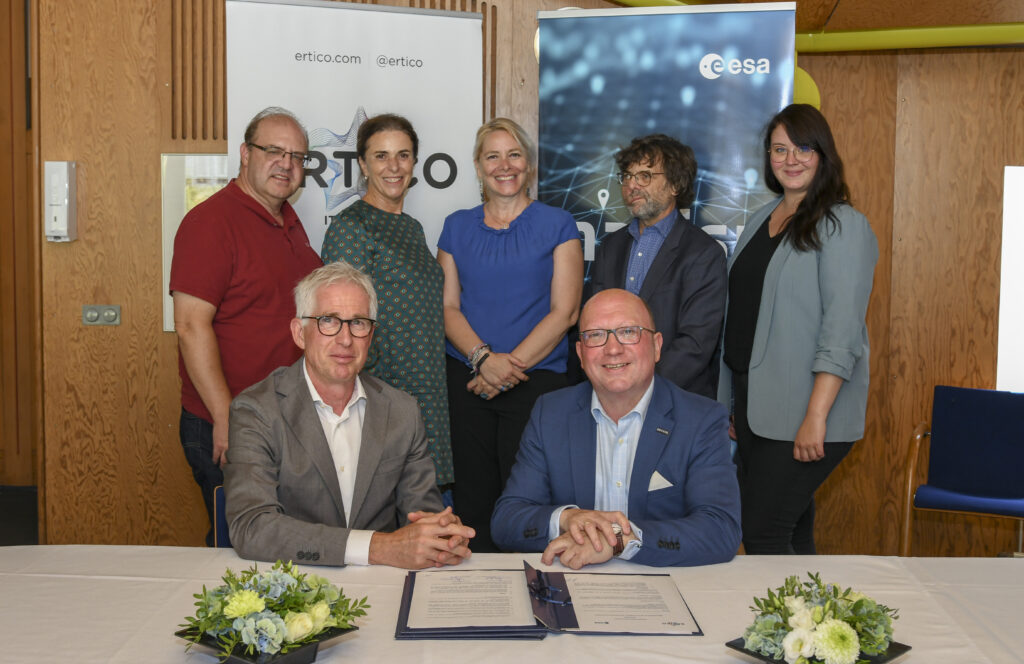 "Our CCAM roadmap is a major focus area for us," explains Dr. Nikolaos Tsampieris, Senior Manager at ERTICO. "It will enable the reduction of human error – by far the largest cause of road accidents – through features such as collision avoidance, lane departure warnings and auto-parking, as well as the regulation of traffic flow to maximise the efficient use of fuel and prevent the otherwise inevitable congestion of European roads while alleviating some of its negative environmental impact."
The signature of the Memorandum of Intent between ERTICO and ESA will allow the two organisations to exchange knowledge and expertise to advance the future of automated and sustainable mobility, improve the reliability of data and build the sector, its services and products stronger and more reliable with space technology. Innovative new services resulting from space-based technology will have a direct benefit to European citizens' lives.
"There is still much more to do in supporting the transition to safer and more sustainable traffic systems in the future, and today's new cooperation effort helps make that possible," adds Rafael Lucas, Head of NAVISP Technical Programme Office. "Because ERTICO bridges so many different actors – service providers, traffic and transport companies, research institutions and universities, public authorities, the connectivity industry, as well as vehicle manufacturers and suppliers– this cooperation opens up a huge number of unique starting points for future research, bringing our work closer to the market and increasing opportunities for commercialisation of space-based applications."
Read more about the collaboration in this article.
Learn more about the ERTICO Partnership.