ERTICO Senior Manager John Paddington attended the ITS UK Members Day to catch up with ERTICO Partners and promote the ongoing projects and platforms to the UK ITS Industry.
ERTICO partner Connected Places Catapult hosted the Members Day in their Milton Keynes office. It gave attendees the to experience their latest CCAM simulator, which is being used to test different approaches to automated/manual driving handovers.
During the Members Day, there was a series of talks from the sponsors of the event. Clearview Intelligence provided an inspiring update on their soon-to-be-launched sustainability and low-carbon strategy, including how they have moved production to the UK from abroad and reduced carbon emissions. ERTICO partner SWARCO talked about innovation, and it was great to see them discussing joint EU-funded projects such as SHOW which features autonomous vehicle demonstrations across 20 cities.
Following the presentations, a lively debate was held on topics such as Electric Vehicles, E-Scooters and Buses. This was followed by a series of short pitches from members, including on how e-Call data could be used for traffic management and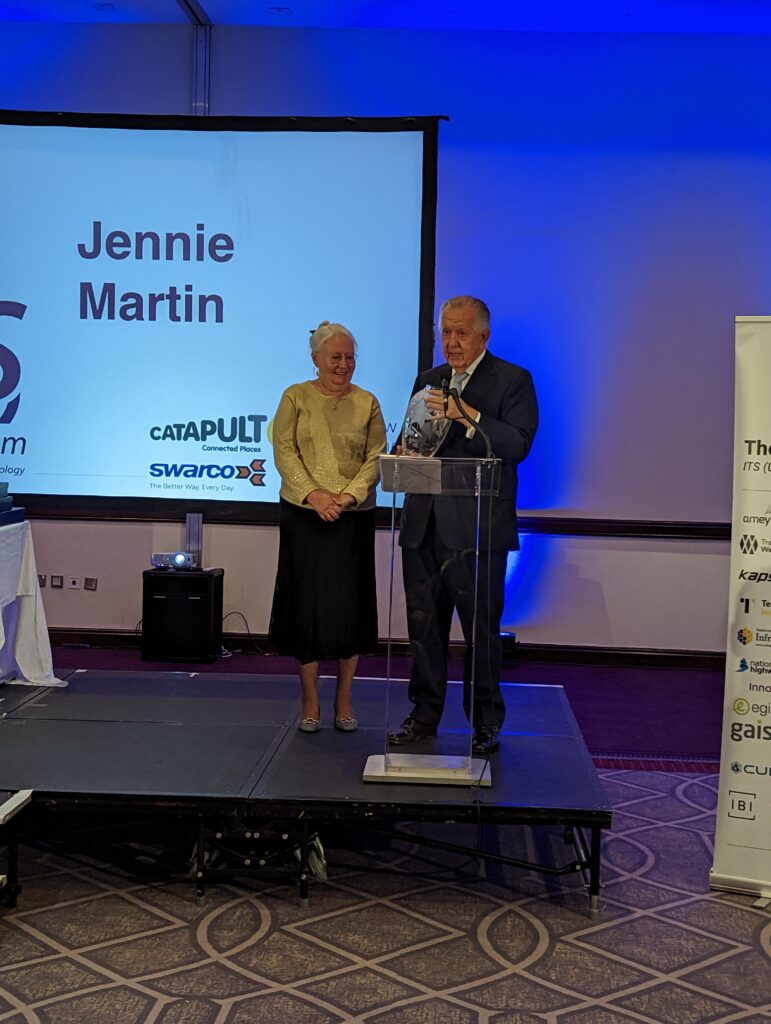 C-ITS by Andy Graham and Danny Woolard of Vesos.
The Members Dinner featured over 180 attendees and included the ITS UK Awards hosted by former UK Transport Minister Stephen Norris and Guenther Weber, representing the Network of National ITS Associations.
This included the inaugural Jennie Martin Award for Women in ITS, a welcome addition to promoting the achievements of Women in our industry. Hannah Tune from Transport for Greater Manchester was the worthy first winner.
The end of the awards included poignant video messages from the ITS Community around the world to the extensive career and work of Jennie Martin, who is retiring at the end of the year from her post as ITS UK Secretary General. Jennie was also awarded on the night, Fellowship of the Chartered Institute of Logistics and Transport by their CEO, Sharon Kindleysides.