The Smart City EXPO World Congress in Barcelona is currently transforming the city into a global hub for urban innovation. Through initiatives like the ERTICO Academy, SUM, TM2.0, City Moonshot, and IN2CCAM as well as the newly launched deployEMDS project, ERTICO engages in a series of activities throughout the week. The event also provides a great opportunity for participants and exhibitors to learn more about next year's ITS World Congress in Dubai. 
Throughout the week in Barcelona, ERTICO takes an active role in engaging with industry leaders, public authorities and other stakeholders, fostering partnerships and collaborations to drive meaningful change in urban mobility. Amidst the dynamic exhibition, the ERTICO booth A185 showcases the next ITS World Congress hosted in Dubai from 16-20 September 2024, which is expecting up to 20.000 participants across the entire ITS and mobility ecosystem.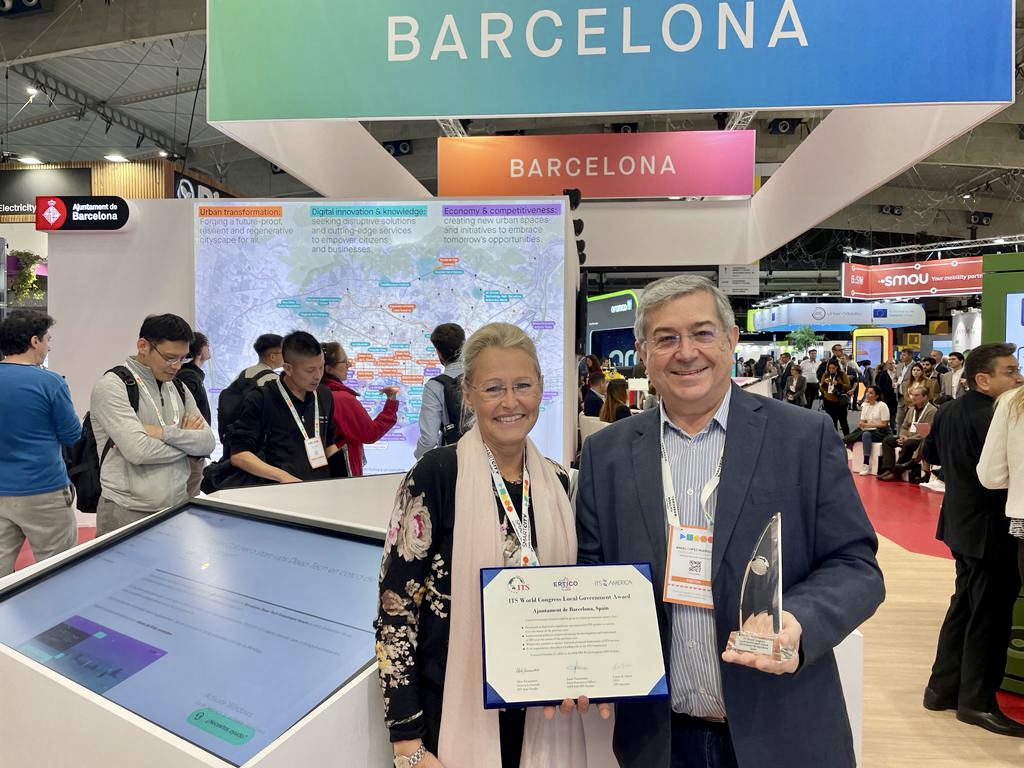 During the Smart City EXPO World Congress, ERTICO, represented by Lisa Boch-Andersen, Director of Communications, Congresses and Events, had the great pleasure of delivering the prestigious Hall of Fame, Local Government Award 2023 for EMEA to Barcelona City Council, represented by Angel López, Mobility Services Coordinator. This recognition is a testament to the city's outstanding contributions in the field of mobility solutions and innovative technologies.
ERTICO also showcases some of the EU co-funded partnership projects and innovative initiatives to support the advancement of urban mobility. One of the newest initiatives under ERTICO's focus area on Urban Mobility is deployEMDS. They held the first meeting which kicked-off the project on Monday 6 November, followed by a public-open session on Tuesday 7 November that was moderated by Vladimir Vorotovic, Director, Innovation & Deployment. deployEMDS's primary objective is to deploy an operational data space and common governance mechanisms. This data space will facilitate decentralised, trusted and secure data sharing. Learn more about the newly launched project and its official kick-off meetings here.  
SUM project is dedicated to creating more accessible, flexible, and sustainable transportation options within cities. By promoting shared mobility solutions, such as carpooling, bike-sharing, and e-scooter rentals, integrated with Public Transport, SUM aims to reduce congestion and emissions while enhancing urban mobility. Partners were delighted to attend the event and showcase their vision for the success of the project. 
The City Moonshot initiative embodies a vision for urban development, aiming to engage, inspire and empower cities by understanding their needs and requirements in relation to mobility and intelligent transport systems. By interviewing 300 cities worldwide on their smart mobility challenges, needs and trends, ERTICO City Moonshot is working to create a unique knowledge database, where interviewed cities will be able to directly express their needs and interests in how they wish to shape and improve their mobility systems. 
ERTICO also presented at the MaaS Summit, the yearly flagship event of the MaaS Alliance. The discussion on cities and urban planning was of great importance, especially when it comes to Mobility-as-a-Service (MaaS). As cities are the backbone of MaaS and mobility management, the City Moonshot initiative's insights from its interviews, showcased during the MaaS Summit, allowed stakeholders to understand better how to build strong networks and collaborate with the public and private sectors in the urban environment.
With a new series of in-person training programmes (ERTICO Academy Missions, Peer-to-Peer and Expert), the event was also a great opportunity for the ERTICO Academy to promote learning and upskilling for all public authorities and their stakeholders worldwide. The training programmes are powered by ERTICO in-house experts and its partners, who provide advice in tailoring the training to the specific needs and interests of the participants. You may learn more on the brand new ERTICO Academy website.
The IN2CCAM project is making strides to advance seamless CCAM integration into traffic management, striving for a substantial impact on safety, inclusivity, and the environment. Coen Bresser, ERTICO Innovation and Deployment Senior Manager, along with project partners Ubiwhere, NeoGLS, and RACC Mobility Club presented the current estate of IN2CCAM and its mission to enhance physical, digital and operational infrastructure to enable the seamless integration of Automated Mobility on our roads, improving mobility for everyone.