5G-MOBIX Finland Trial Site's results and lessons learnt on 5G for CAM
June 16, 2022 @ 2:00 pm

-

3:00 pm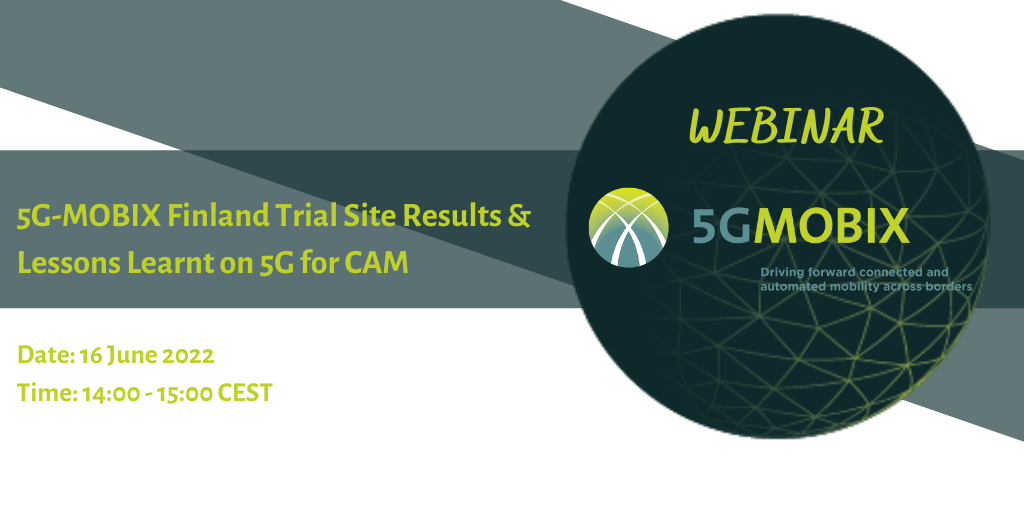 ERTICO's approach towards deploying innovation focuses on large-scale demonstrations, testing and pilots – learning by doing – to showcase innovative and forward-thinking technologies to support user engagement and public involvement. One of the leading projects in the field of Cooperative, Connected and Automated Mobility is the 5G-MOBIX Partnership project, 5G-MOBIX has conducted several trial site demonstrations to assess the added value of 5G connectivity for Connected and Automated Mobility (CAM) services and functionalities in cross-border conditions. 5G-MOBIX trial sites include two Cross-Border Corridors (Greece-Turkey and Spain-Portugal) and six local Trial Sites in France, Germany, Netherlands, Finland, China and South Korea (bringing complementary insights to the cross-border issues trialled at the Corridors).
Next Thursday, 16 June, from 2 PM to 3 PM (CEST), 5G-MOBIX will host a webinar to present the Finland Trial Site contributions as well as the results of testing 5G service continuity solutions focusing on the remote driving use case in a 5G multi-PLMN environment. These solutions ensure the availability of adequate vehicle-to-network connectivity for continuous transmission of the data traffic streams from the vehicle to the Remote Operations Centre (ROC), and timely reception of command messages from the ROC to the vehicle.
The webinar will also include videos from the trials and an interactive Q&A session to drive discussions on our results from the trials and lessons learnt. Find out more about the agenda.
Register here.