AUTONOMY & THE URBAN MOBILITY SUMMIT
October 18, 2018

-

October 20, 2018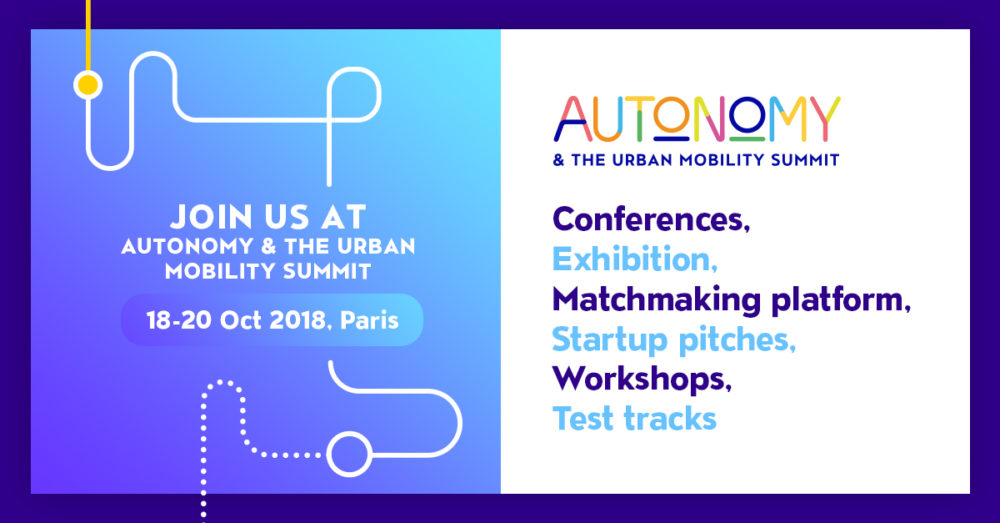 ERTICO is pleased to announce their participation in and support to Autonomy, the Urban Mobility Summit. We hope to see all of you at La Grande Halle de La Vilette in Paris from 18 to 20 October 2018. Autonomy offers the mobility ecosystem an innovative and collaborative platform on which thought leaders, policy makers, innovators and the public can discuss the innovative ideas and solutions that will change how we move in cities.
Piia Karjalainen, Senior Manager at MaaS Alliance/ERTICO will be speaking on Thursday 18 October from 13:30-14:15 at a session organised by the MaaS Alliance, SAE International and VIA, exploring the current state-of-the-art of the shared mobility services and discuss the role of standardisation as a catalyst for the wide roll-out of shared mobility services and integration of thereof into the mobility system. Join us, more information on the session is available here.
The first two days of Autonomy are dedicated to professionals, cities and institutions (B2B – B2G), with the third day open to the public (B2C). Autonomy 2018 focuses on the 5 key mobility disruptors: Active mobility, Data analytics, Electric solutions, Shared mobility and Autonomous vehicles – ADESA for short. The event will feature the Urban Mobility Summit, the world's largest urban mobility conference series and welcome international companies, cities, policymakers and innovators to its stage. The Summit's conference blocks are organized around Autonomy's ADESA framework and will
explore how these five verticals impact mobility in cities. These themes will be presented across four formats: keynotes, round tables, and meetups.
Autonomy will curate the exhibition area to showcase the very best in new mobility solutions and cutting-edge innovations. Autonomy is leveraging its extensive industry knowledge and bespoke match-making software to help participants connect with their target market. Thanks to the Funding the Movement program, the 50 most innovative mobility startups will get the chance to pitch and sources investors
Click here for more information on the event.