ELVITEN project final event
October 21, 2020 @ 9:00 am

-

1:00 pm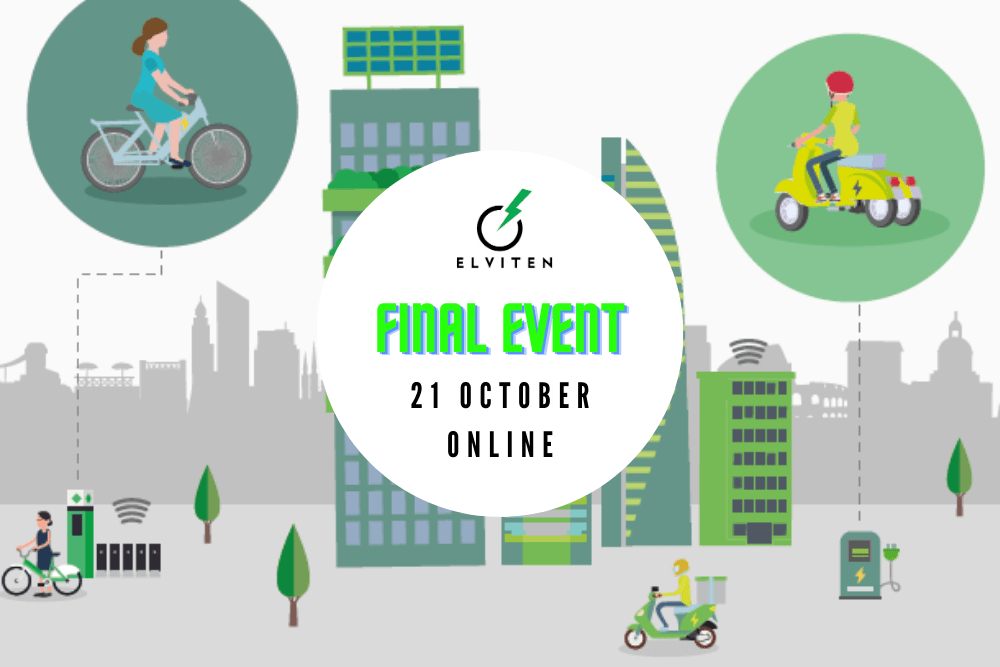 After months of demonstrations on how Electric Light-Vehicles can be used in urban areas, and integrated into the existing transport network, ELVITEN project is coming to an end.
Save the date for the final event which will be organised on 21 October 2020.
To register to the final event, please click here. You can also have a look at the program here. 
ELVITEN promotes innovation, sustainability, and urban mobility in Europe through demonstrating the usefulness of electrified L-category vehicles (EL-Vs) for urban transportation in six pilot cities: Bari, Berlin, Genoa, Malaga, Rome, and Trikala. Its aim is to achieve a mind shift among users and propose replicable usage schemes to address the issues surrounding the market deployment of EL-Vs. It also generated detailed guidelines for service providers and planning authorities to integrate EL-Vs into existing networks. Data and feedback have been collected and analysed from real users, meaning ICT tools were deployed to broker and book existing charging points and EL-Vs, engaged users and managed incentives.
Over 40000 trips were performed during the demonstrations phase in ELVITEN 6 cities. Interestingly, Trikala seems to be the city were EL-Vs were mostly used, with 9841 trips, followed by Rome with 7968 trips. During the event, ELVITEN's further achievements, as well as vision will be discussed with the participants. The role of electromobility as a mean and solution towards a climate-neutral continent will also be investigated.
ELVITEN's objective was to commit to more innovative and more sustainable transportation in Europe. Attend the final event to find out if the project reached its goal.
Watch the ELVITEN final video to better understand the project, and to get an overview of its most important milestones.