Fleet Live 2018
October 9, 2018

-

October 10, 2018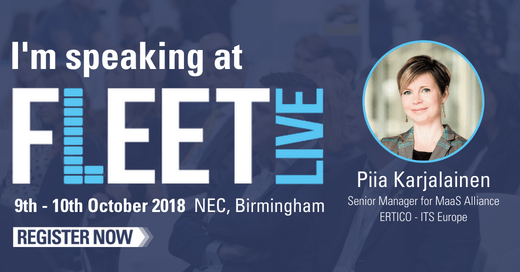 The changing face of fleet management.
Fleet Live gives decision-makers from fleets of all sizes the chance to speak to experts and peers about how they are preparing for the future of fleet. 
Our expert on MaaS Piia Karjalainen will be one of the speakers and will be speaking about MaaS and how it will affect to the fleet management and will change the role of fleets.
2,000+ visitors with all levels of fleet involvement under one roof
25+ expert speakers discussing the most-pressing issues including fuel and emissions, defect reporting, driver safety, connectivity and much more
5 distinct theatres split into 'Strategy', 'Operations' and 'Discover Fleet' seminars, providing valuable insights on how to buy and run a more efficient fleet now and in the years to come
The Future Zone featuring Mobility, Technology and Low & Zero-Emission hubs, each showcasing the latest technological advances set to change the face of fleet and how to adopt them
The Advice Centre a dedicated zone to secure free and practical advice from some of the UK's most knowledgeable fleet managers
120+ exhibitors representing every element of the fleet supply chain, including the UK's Top 5 leasing companies
Click here for more information on the event.