InterCor PKI Security TESTFEST
April 23, 2018

-

April 26, 2018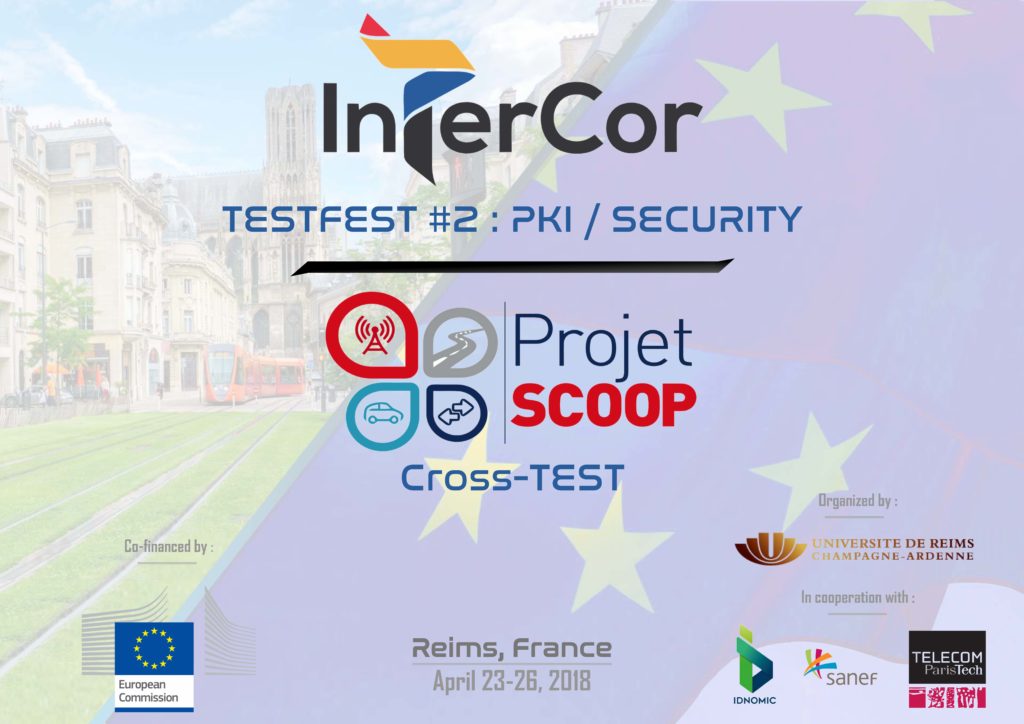 The second InterCor TESTFEST is being co-organised by the InterCor project together with French partners of the Scoop@F project. It will take place on April 23 – April 26 around the city of Reims, France, on the A4 and A344 highways. The main goal of this TESTFEST is to check the use of different Public Key Infrastructures (PKIs) and the authentication of messages sent from different ITS stations. Different security scenarios will be tested along with following services:
Roadworks Warning (RWW) using DENM messages, in particularProbe Vehicle Data (PVD) using CAM and DENM messages

Alert neutralisation of part of a lane, whole lane or several lanes
Alert planned road works – mobile (e.g.  cutting the grass or renewing the lane markings)
Winter maintenance – Salting in progress

A V2V warning (OHLN) using DENM
The InterCor TESTFESTs are open to anyone active in this field. Interested public and private organisations (public authorities, road operators, systems suppliers, services providers, vehicle manufacturers, etc.) are invited to register and to take part in this first TESTFEST. i.e. by bringing on-board units (suitable for the services) and vehicles to test the interoperability with the InterCor RSUs in France.
Highlights
Main Security-PKI functionalities to be tested are:
Message Signature/verification
The use of pseudonym certificates
Trust chain verification
Technical information
TESTFEST #2 Test case specifications
For more information on the event, visit the InterCor PKI TESTFEST website.
Follow and engage with the TESTFEST on Twitter with hashtags #InterCorTESTFEST #PKI #ITS