ITS4Climate Congress
September 17, 2019

-

September 19, 2019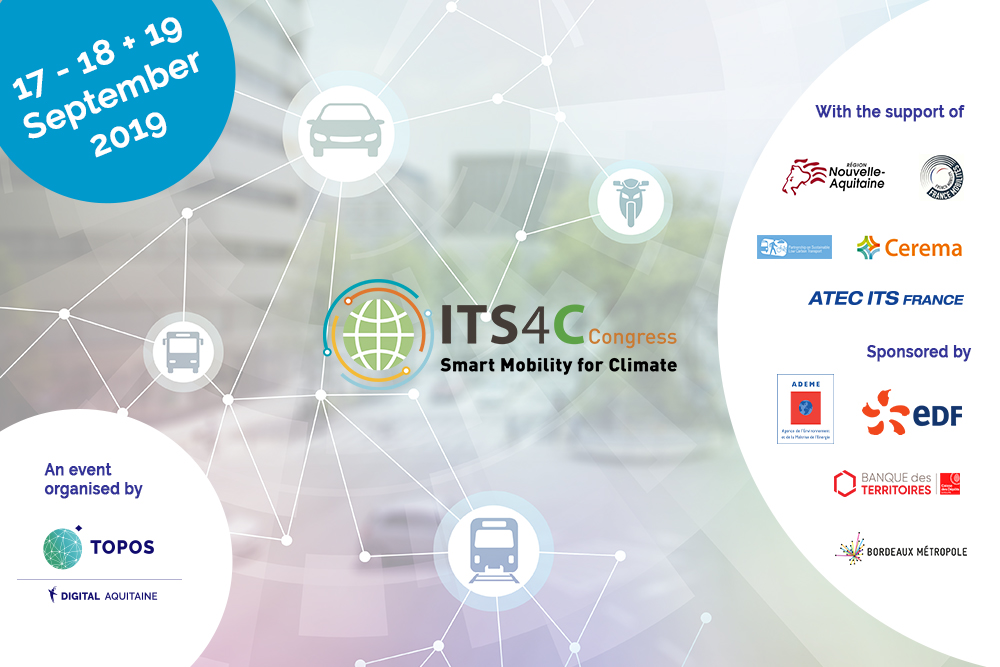 ITS4Climate 2019, the first congress dedicated exclusively to the environmental impact of smart mobility services and solutions will take place in September 17 to 19 at Cité Mondiale of Bordeaux.
Organised by TOPOS–Digital Aquitaine with the support of Région Nouvelle-Aquitaine, ATEC ITS France, French mobility, Cerema, Slocat, ITS4Climate Congress will explore how Intelligent Transport Systems & Services (ITS) could help meet global goals for decarbonising transport and mobility.
The objectives of this international event acknowledged by the United Nations Framework Convention on Climate Change (UNFCCC) as one of the 14 Transport Measures able to fight against Climate Change are :
Evaluate the effectiveness of ITS tools in reducing GHG emissions
Explore barriers and enablers for deployment of ITS for climate
Showcase innovation in technology, solutions and services
Highlight examples of best practice in ITS for climate
Expand and interconnect the global ITS4Climate community
Transport and climate experts, ITS suppliers and service providers, business actors and international governments experts will meet on 17 and 18 + 19 September to assess the role of ITS in the implementation of an international strategy for decarbonized transport.