Transport as a Commodity and Utility Virtual Workshop
October 7, 2020 @ 9:00 am

-

10:00 am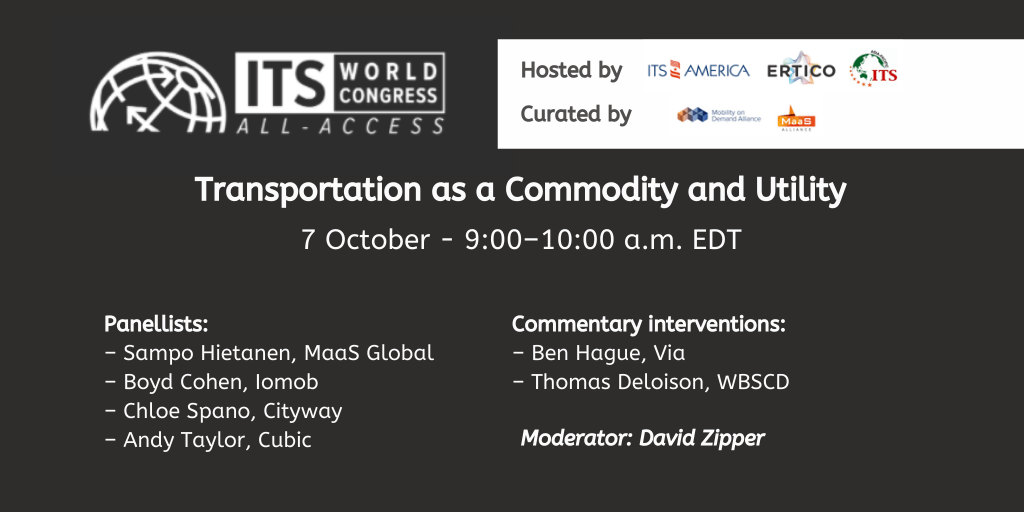 Hosted by ITS America, ERTICO – ITS Europe and ITS Asia-Pacific
Curated by MOD Alliance and MaaS Alliance
If, at its core, MOD/MaaS treats transportation supply and demand as commodities, blending both public and private sector entities in a more singular customer-driven mobility service – is it possible for our public and private road and mobility operators to achieve a fully commoditized transportation? During the "ITS World Congress ALL-ACCESS", MaaS Alliance and MOD Alliance will host two sessions focusing on this.
The Global MOD/MaaS All Access will take two sessions to explore:
• Part 1: Wednesday, October 7 at 9:00 a.m. – 10:00 a.m. EDT: Mobility Services as a Commodity – Does the Business Model Work? Join our distinguished panel as they pick up the threads of a controversial discussion that challenges the premise of Mobility as a Service and whether its promise to deliver choice to travelers and profit to companies can work.
• Part 2: Thursday, October 8 at 9:00 a.m. – 10:00 a.m. EDT: Mobility Infrastructure as a Commodity – Can On-Demand Management Work? people argue that infrastructure should be treated more like a commodity than it has been, that limited resources like the curb and sidewalks can be optimized and that there is money to be made. Our panel will explore if "on demand" mobility infrastructure is possible.
"ITS World Congress ALL-ACCESS" an immersive digital education event series delivering interactive education sessions, discussion groups, live Q&As, recommended content, and vendor solution presentations in the form of case-studies, keynotes and expert panels – all accessible on demand.