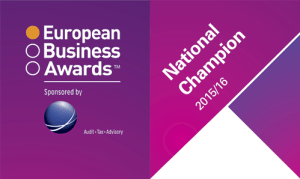 GoSwift has been chosen as a National Champion representing Estonia in the 2015/16 European Business Awards. Our company competed with the best businesses in our nation to win the accolade of representing our country in The UKTI Award for Innovation. UK Trade & Investment (UKTI) works to encourage the best overseas companies to look to the UK as their global partner of choice, and to work with UK-based businesses to ensure their success in international markets. Besides us, other Estonian finalists are Absolute Recruitment OÜ (AR Personal), Brightspark OÜ, Loodusvagi OÜ, Skype Technologies OÜ, Tark Grunte Sutkiene (Estonia), Technomar & Adrem AS, Telegrupp AS and Top Marine.
As a National Champion GoSwift will go on to compete in the next phase of the competition resulting in successful organisations being short-listed as one of 10 Ruban d'Honneur recipients in The UKTI Award for Innovation.
In order to progress to the next phase of the competition we will submit a video entry for assessment by the judging panel and also take part in the Public Vote in which the video will be live on the site.
Original source: GoSwift